This week's issue of Auto Express
It's a 132-page special, featuring our exclusive ride in the Peugeot 208 GTi and all of the hottest news from Geneva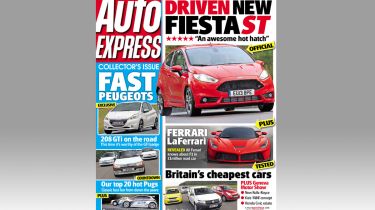 This week's issue – out on 6 March 2013 – is a massive 132-page collector's issue Peugeot special. It features an exclusive ride in the new Peugeot 208 GTi, a countdown of our top 20 hot Pugs, plus a look at Peugeot's crazy concepts and motorsport successes.
We also bring you all the big stars form the Geneva Motor Show, including the £1million Ferrari LaFerrari and striking Kia Provo concept.
In drives, we get behind the wheel of the eagerly anticipated Ford Fiesta ST, sleek Mercedes CLA four-door coupe, three-door versions of the SEAT Leon and Hyundai i30, plus the super-fast Mercedes SLS Black Series and facelifted Lamborghini Gallardo.
Elsewhere, our road testers deliver their verdict on the new Dacia Sandero – Britain's cheapest car – and how it fares against three budget rivals, while the SEAT Leon FR faces tough competition in the form of the BMW 118d.
Plus, there's a used buyer's guide on the on the Ford Mondeo as well as all the latest product reviews, long-term reports and letters, sport and Watchdog.
Issue 1,258 is available to buy now, priced at £2.95. Alternatively, you can claim six issues for £1 and have the magazine delivered straight to your door every week, download our new iPad edition, or simply talk to your local newsagents to order a copy for you at no extra cost.