This week's issue of Auto Express
The latest issue is out now, featuring our verdict on every version of the Jaguar F-Type and first drive of the Audi S3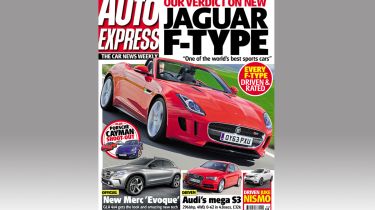 The top story in this week's issue - out on 17 April 2013 - is the Jaguar F-Type. We've finally been allowed to get behind the wheel of the most eagerly awaited Jaguar for a generation, and it hasn't disappointed. Read our verdict on all three versions - from the entry-level V6 model to the thrilling supercharged S and the range-topping V8S - as the all-new sports car arrives in showrooms.
We also have the first official pictures of Mercedes' new Evoquer rival and Citroen's new luxury SUV concept, ahead of the Shanghai Motor Show this week, and full details of the latest big safety recall that's affecting 154,000 cars in the UK.
This week's feature sees our deputy news editor, Luke Madden, join Nissan on location in LA to see how a TV ad for the Juke is made.
In drives, we've been behind the wheel of the new Audi S3 for the first time, as well as the revised Nissan Leaf and the hot new Nissan Juke R. We've also driven the new SEAT Leon SC 1.8 TSI and the 170mph Vauxhall Insignia VXR Supersports, which has had its speed limited removed and it's price slashed.
Our road test team has pitted the all-new Porsche Cayman S against its coupe rivals, the Audi TT RS and Lotus Evora S. We've also tested the soft-top Citroen DS3 Cabrio against the MINI Convertible, to find out if the newcomer has what it takes to topple the popular MINI. Plus, there are all your usual product reviews, buyer's guides and letters are included, too.
Issue 1,264 is available to buy now, priced at £2.60. Alternatively, you can claim six issues for £1 and have the magazine delivered straight to your door every week, download our new iPad edition, or simply talk to your local newsagents to order a copy for you at no extra cost.