Readers choose Jaguar's XE as their pick of a bumper 15-plate new car crop
Auto Express readers pick Jaguar XE as the new 15-plate car they're looking forward to most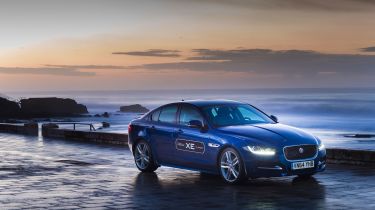 A poll on the Auto Express website has identified the Jaguar XE as the new 15-plate car the public are getting most excited about.
The new '15' registration plate arrived on March 1st and is set to take pride of place on a fantastic crop of new cars during spring and summer.
The Auto Express poll picked eight of the most hotly anticipated new 15-plate models and asked users of autoexpress.co.uk which they were looking forward to most. The result was an emphatic victory for Jaguar's new compact executive saloon, the XE, with 43% of the 3,772 respondents picking it as their highlight.
Second place in the poll went to the revised BMW 1 Series hatchback, which narrowly beat the new Volvo XC90 luxury SUV with 15% of the vote. Other popular choices were the Fiat 500X crossover and the CLA Shooting Brake estate from Mercedes-Benz, which both got 7% of the votes polled.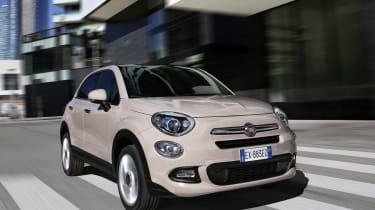 The Jaguar XE goes on sale this April and has already impressed Auto Express road testers, claiming a five-star verdict in its first drive review. It was praised for its excellent ride and handling balance as well as for the efficiency of its diesel engines.
Auto Express deputy editor Graham Hope said: "I'm not surprised that the XE is causing such a stir among Auto Express readers. It's a hugely important car for Jaguar and the early signs are that it's up to the job of competing with its German rivals.
"The new XE is by no means the only reason for car buyers to get excited at the moment, though. The range and quality of new cars arriving on the 15-plate is one of the strongest I can remember and with some great deals out there, it's a fantastic time to be on the hunt for a new car."
This week's issue of Auto Express magazine goes on sale on March 4th and celebrates the launch of the new 15-plate with a full new car buyer's guide on 100 of the UK's most popular cars. You'll find our verdict on each of the models plus advice on the best version to choose and aim-to-pay prices revealing the discounts you can expect to get from dealers.
15-plate cars poll results
• Jaguar XE – 43% • BMW 1 Series facelift – 15%• Volvo XC90 – 14%• Fiat 500X – 7%• Mercedes CLA Shooting Brake – 7%• Mazda2 – 6%• Audi TT Roadster – 5%• Smart ForTwo/ForFour – 3%
Do you agree with the results of the poll? What's your favourite 15-plate car? Let us know in the comments section below...