Audi TT Roadster review
Those after a handsome and fun-to-drive convertible should certainly consider the new Audi TT Roadster
The Audi TT Roadster takes on the BMW Z4 and Mercedes SLK in the premium roadster class, but beats both when it comes to fuel economy, performance and price. We think it's the best-looking of the three, too, with its chiseled features and gorgeous minimalist interior.
The three-layer fabric roof can be stowed in 10 second and up to speed of 31mph in a compartment behind the passengers' heads and in front of the 280-litre boot.
Like the brand's A3 hatchback and TT coupe, the TT Roadster is underpinned by the firm's MQB architecture. Designed to be light and strong, it results in a weight-saving of around 100kg over the old TT.
There's an wide choice of engines, ranging from the 65.7mpg 2.0 TDI Ultra model, to the scorching 306bhp TTS, with 178bhp 1.8-litre and 227bhp 2.0 TFSI units slotted in between. The petrol models are available with a choice of a six-speed manual gearbox and a six-speed dual-clutch S tronic auto, while the 2.0 TFSI comes in a choice of front- and four-wheel drive and the TT S in four-wheel drive only.
Later in 2016 the wild TT RS is due to join the line-up. Packing a 394bhp 2.5-litre five-cylinder petrol engine, quattro four-wheel drive and an S tronic twin-clutch gearbox, the flagship roadster will blast from 0-62mph in just 3.9 seconds and onto a top speed of 170mph.
The TT Roadster line-up extends to Sport, S Line and TTS models. All versions get plenty of standard kit, including Audi's excellent Virtual Cockpit TFT instrument display, xenon headlamps, a powered hood and part leather trim for the seats, while the S Line adds full LED headlamps, a subtle bodykit and lowered and stiffened suspension. TTS models get all this kit plus four-wheel drive, leather trimmed and heated seats and adpative dampers.
The TT Roadster weighs 90kg more than the equivalent TT Coupe, but still feels seriously fast and agile, although its not as much fun to drive as the mid-engined Porsche 718 Boxster.
The latest Audi TT Roadster debuted in 2015 and is a natural rival to models such as the Mercedes SLC, BMW Z4 and Porsche 718 Boxster.
Like the two previous generations of TT Roadster, the current car mixes head-turning looks with an interior that effortlessly mixes slick design wirth top notch quality. However, thanks to Audi's clever MQB underpinnings, this TT is as good to drive as it is to look at. Not only does it benefit from sharp and engaging handling, a useful weigh-saving over its predecessor means it's faster and more efficent than before.
As you'd expect, there's a wide range of engines, including both petrol and diesel units, plus the option of Audi's confidence-inspiring quattro four-wheel drive. There's also a choice of six-speed manual or six-speed twin-clutch S tronic transmissions.
There's also a wide-range of trim variants, from the entry-leve Sport through to the sportscar-quick TTS. These models will be joined late in 2016 by the fire-breathing 394bhp TT RS.
When it comes to style the TT takes some beating, while the Roadster's wind-in-the-hair thrill add an extra dimension to the driving experience. And while it can't quite rival the Porsche 718 Boxster for outright thrills behind the wheel, but it's more engaging than the BMW and Mercedes. Plus, the Audi boasts one of the best interiors in the business.
Engines, performance and drive
By switching to the latest MQB platform, the TT Roadster features loads of new technology and equipment, but weighs roughly the same as its predecessor. The roof mechanism, for example, weighs 3kg less but due to extra chassis strengthening around the side sills and rear bulkhead it weighs around 90kg more overall than the equivalent Coupe.
On the move you'll be hard-pushed to tell the difference though; it feels rock-solid in corners, with hardly any body roll and excellent stability. Go for four-wheel drive and there's almost unbreakable traction, too, although it still tends towards understeer as you approach the limit, unlike its more exciting rear-wheel drive rivals.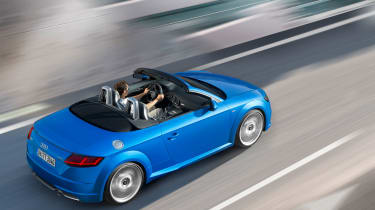 Still, drive smoothly and swiftly rather than on the ragged edge and it feels agile and plenty fast enough to put a big smile on your face. The TTS delivers explosive straight-line pace, but the lesser-powered 227bhp 2.0 TFSI Quattro model is arguably a better fit for public roads – it revs sweetly and lets you deploy more of its performance more of the time. However, don't be put off by the entry-level 1.8-litre four-cylinder. With just 178bhp on tap it doesn't feel quite as muscular as more expensive models, but a claimed 0-62mph time of 7.2 seconds proves it's no slouch. It's also refined and revs a little more sweetly than the 2.0-litre.
The diesel punches hard, and still feels sporty, but the manual gearshift on all versions is a bit baggy and could do with a shorter throw. The six-speed S tronic on the other hand is unflappable with telepathic shifts in auto and lightning fast gear changes in manual mode.
There's a reassuring firmness to the suspension, but it doesn't crash over imperfections – so long as you stick with the standard setup and don't order the (no-cost option) firmer and 10mm lower S line suspension. Refinement is good with the acoustically tuned roof in place, although we did experience some wind whistle from around the wing mirror and more tyre noise on the motorway than with the Coupe.
MPG, CO2 and Running Costs
For such a fast, exotic-feeling car, the TT Roadster should be relatively cheap to run – model dependent of course.
The most efficient model in the range, by quite some margin, is the 181bhp 2.0 TDI 'Ultra'. Audi has focused on making this the eco model so it's only available with a six-speed manual gearbox and front wheel drive, which means it's capable of returning 65.7mpg and emitting 114g/km of CO2. As a result company car buyers will only pay 18 per cent BIK, while road tax is free for the first year and £30 thereafter.
At the other end of the scale is the quattro-only 306bhp TTS, which returns economy and emissions of 38.7mpg and 169g/km with a manual gearbox, and 40.9mpg and 159g/km with the S tronic auto.
The entry-level 227bhp 2.0 TFSI come with front or quattro four-wheel drive and the choice of a manual or six-speed dual-clutch S tronic gearbox and returns an impressive 47.1mpg and 140g/km in its most efficient two-wheel drive, manual configuration.
If you want to make the most of the TT's fuel economy then a special Economy setting is built in to the five-mode Drive Select system that dials down throttle response to make a tank go further.
Interior, design and technology
The first-generation Audi TT became an instant icon when it arrived in 1999. So while this third-gen TT Roadster doesn't feature a revolutionary design, it doesn't need to – its job is to refine the formula. In the flesh, the sculpted bodywork, enormous hexagonal front grille and big wheels (18-inch on Sport models and 19-inch on S line models) are instantly eye-catching, while the LED headlights and taillights have a unique criss-cross lighting signature.
Compared to the Coupe, a flat boot deck, the removal of the small rear seats and new rollover hoops give the Roadster its own look, but roof up or roof down it's a stunning piece of design. Things get even better on the inside where Audi has used technology to create an uncluttered and forward-thinking space.
The 12.3-inch virtual cockpit is a high-definition screen that replaces the traditional instrument cluster and comes as standard on all models. It put all your sat-nav, infotainment and driving data right in front of you in a variety of configurations and frees up space where a central touchscreen would normally go.
Another neat feature is air-con controls incorporated into the vents - although climate control is an optional extra on all models. There are four interior colours to choose from, three colours for the roof and 11 different paint colours for the exterior.
Practicality, comfort and boot space
The price you pay for open-top motoring is practicality, but the sacrifice isn't as severe as you might think. You lose the two occasionally-useful rear seats from the Coupe, which are cramped even for kids but can come in useful for storing bags, but the 280-litre boot is only 25 litres smaller than the Coupe.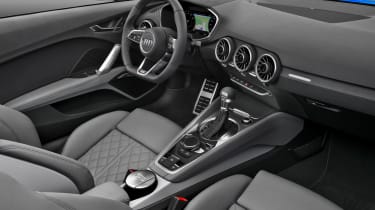 What's more, you don't lose any of that space when you fold the roof back. The boot itself has a small opening and is quite shallow, but is surprisingly deep. An elasticated net in the centre of the boot is handy for tying down individual bags if you're planning on putting your foot down, while a hatch lets you load longer items that would otherwise be too big for the boot.
Up front there's a single cup holder, a small cubby in the armrest and another in front of the gearlever, and narrow pockets in both doors. Connect your phone up through the Bluetooth and hands-free calls are still possible with the roof down, thanks to microphones built into the seat belt.
Thanks to its twin-motor folding fabric roof, there's more to go wrong with the Roadster than the Coupe, but up close the fit and finish of the hood, plus the speed and smoothness of the mechanism is second to none.
Like the Coupe, it might be an all-new model, but its modular MQB underpinnings are carried over from a whole range of model within the VW Group portfolio. The same can be said of the engine range, which has been tuned specifically for the TT, but uses proven internals.
The outgoing Mk2 TT scored a good 83.5 per cent for reliability in our 2015 Driver Power satisfaction survey and ranked 184th overall. However, Audi's dealers ranked behind key rivals BMW and Mercedes.
The complicated electrical system works brilliantly when its functioning, but we experienced problems with the Virtual Cockpit on our long-term TT Coupe, so it's something to keep an eye on. Safety systems include blind spot assist, active lane keep assist, park assist and traffic sign recognition.
Next Steps
Which Is Best
Cheapest
Name

40 TFSI Sport 2dr S Tronic

Gearbox type

Semi-auto

Price

£34,940
Most Economical
Name

40 TFSI Sport 2dr S Tronic

Gearbox type

Semi-auto

Price

£34,940
Fastest
Name

50 TFSI 320 Quattro TTS 2dr S Tronic

Gearbox type

Semi-auto

Price

£48,365