"You just can't get the staff these days - or so say car industry bosses"
Bosses say the British car industry needs more apprentices, despite a career in the business being rewarding and fun, says Steve Fowler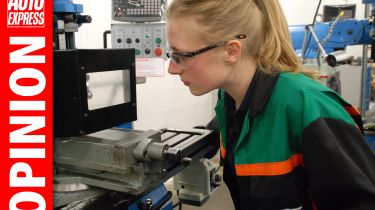 I always wanted to work in the car business. If I wasn't lucky enough to be doing this, I'd be working somewhere doing something, somehow, related to four wheels.
Most of the people I get to meet through work feel the same way – whether it's my colleagues here, or the most senior execs in the industry. Only this week I met with Andy Palmer, CEO of Aston Martin, who looks as thrilled to be doing what he does today as I'm sure he did on his first day in his job as an apprentice at a UK automotive supplier.
But, it seems, fewer people are feeling that way and the UK car industry – in the midst of a real boom in terms of manufacturing, engineering and sales – is struggling to attract the right talent.
• 'JLR's growth is an unprecedented breakthrough for UK PLC'
It's what the boss of industry body the Society of Motor Manufacturers and Traders, Mike Hawes, described to me as a skills shortage. And it's a real problem – in factories, engineering centres and even on the showroom floor.
So much so that car makers are having to look abroad for the right sort of people. And even some dealers are struggling to find staff to sell cars.
Andy Palmer says the problem is even worse among the second tier of suppliers – so he and others have to look to foreign companies to supply the necessary hi-tech parts his cars need.
• "It's been a great year for the car industry, so we're told"
Part of the problem, according to Hawes, is the success of our industry. Such is the current rate of expansion of the UK's car business, there aren't enough people to fill the vacancies.
Apprenticeship programmes are on the rise and are a brilliant way to get into the motor industry. But young people still need convincing a career in the car business can be invigorating, rewarding, thrilling and fun. And it'll be around for a long, long time.
What do you think about the state of the UK car industry? Let us know in the comments below!