Autonomous cars will kill the SUV says VW boss
Popularity of SUVs likely to decrease with the arrival of self-driving cars, according to Volkswagen's head of design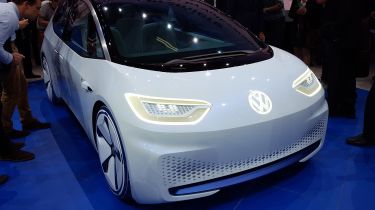 The arrival of fully autonomous vehicles may be the technical achievement that finally breaks the ever-increasing customer demand for SUVs, VW's head of design has suggested.
Car makers worldwide are continuing to ditch traditional hatchbacks and saloons in favour of crossovers and SUVs of almost every size. But Klaus Bischoff, VW's Executive Director of Design, believes that when so-called 'Level Five' autonomous tech allows drivers to take their eyes fully off the road, stylists will be freed up to create more radically-shaped cars that don't even have a windscreen - and that this, in turn, could break the trend for the higher seating positions of SUVs.
• Driverless cars: the ultimate guide to self-driving vehicles
"At the moment we see the rise of SUVs, and the descent of limousines [saloons] and MPVs," Bischoff told Auto Express. "We've found something that attracts people, that answers a question customers maybe didn't even know they had."
"Maybe SUVs will start to look old at some point and people will point at them and say, 'He's driving a dinosaur.' We don't see that now, but I strongly believe that we're going to see much different vehicles when we get to Level Five autonomy, and then it becomes much more open. "
VW's Paris show concept, called I.D., showcased not only electric powertrains but also a different interior layout made possible by an all-new EV-focused chassis. Bischoff, who has described the I.D.'s seating arrangement as a "lounge layout" said, "The new packaging, where you just have a new platform with the wheels in the corners, is also paradise for designers. We can move things around; it gives us a lot of fun."
Do you think the demand for SUVs will decrease with the arrival of fully autonomous cars? Let us know below...