'Fat discounts on new cars aren't just available, they're obligatory'
You, the consumer, owe it to yourself and your family not to pay full list price on a new car, says Mike Rutherford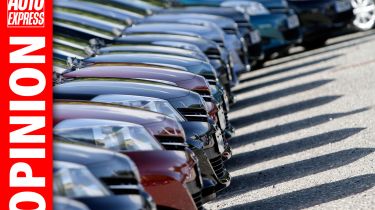 When friends, family and callers to radio phone-ins ask me if price reductions can still be had in car showrooms, my standard reply goes: for 90 per cent-plus of unused (i.e. brand new or pre-registered) vehicles, fat discounts aren't just available, they're obligatory. 
You, the consumer owe it to yourself and your family not to pay full list. For common, mass-produced models expect at least 10 per cent off... or walk. If you're prepared to shop around and haggle hard, think nearer 20 per cent. And if you're flexible on timing, model choice and paint, don't rule out reductions of a quarter or a third. 
And why not? Clothes, kitchen, electrical and other retailers do mega-discounting. Even MoT bays and automotive accessory stores dabble in them. So if they can massively reduce their profits on some products occasionally, motor traders aided and abetted by vehicle manufacturers can do the same.
For weeks I've been intrigued by a state-of-the-art, black with beige leather interior Hyundai Genesis 3.8 being sold by a franchised outlet in northern England. According to Hyundai UK's price catalogue this is a £50,000-plus car new. But the example up north is current (2016), has only 50 delivery miles, so is technically 'pre-registered/unused' not 'new/brand new'. This matters not. It's been on sale for most of December, and may still be up for grabs today for under £30,000. That's a reduction of 40 per cent-plus. And price cuts don't come much bigger than that on factory-fresh cars. 
Should you buy this, or a similar model, with this record level of discount you'll save in excess of £20,000, and that's enough to cover a winter holiday by the Med, plus a new or pre-registered Mazda MX-5 (the reigning World Car of the Year) blessed with its obligatory plump discount, or the equivalent, in the form of an interest-free loan.
• New record for car registrations in 2017, but expected to fall
How can a Genesis be bought unused in the UK at an astonishing £20k-plus off? Because its official price new is ridiculously ambitious and borders on pure fiction. Officially, the saloon starts at a painful £50,705 new. And that's why few – if any – are purchased by private buyers. C'mon Hyundai, do yourself – and us – a favour by biting the bullet and starting the Genesis at nearer £30,000, which, in truth, is all this good but not great Korean motor is worth.