Hennessey Venom GT Final Edition brings curtain down on 1,451bhp hypercar
Final ever 1,451bhp Venom GT gets special blue paint finish and $1.2 million price tag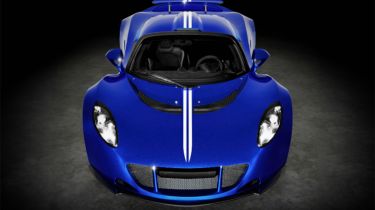 Production of the Hennessey Venom GT - unofficially the fastest car on the planet – has ended after seven years, and the Texas based tuner has produced a Final Edition version of its record-breaking hypercar to see it over the line.
The Final Edition gets a special "Glacier Blue" paint finish with thin white stripes running from nose to tail. Power is provided by a 7.0-litre twin-turbo GM sourced V8, producing 1,451bhp.
• Hennessey Venom GT Spyder is world's fastest convertible
The Venom GT uses a heavily modified Lotus Exige chassis and carries over many of the Norfolk made sports car's body parts. Much of the bodywork – and even the wheels – are made from carbon fibre, meaning a curb weight of 1,244kg and a staggering power to weight ratio of 1,166bhp per tonne.
This Venom GT is the thirteenth produced by Hennessey, following one prototype vehicle and eleven production models, and a buyer willing to stump up the $1.2 million (£975,000) price tag has been found.
Power has steadily grown over seven years of production from 1,000bhp to the 1,451bhp figure we have today, and Henessey has even produced a roadster variant.
The Venom GT is best known for setting an unofficial speed record in 2014, clocking a top speed of 270.5mph over a single run at NASA's Kennedy Space Centre in Florida.
Though that's faster than the speed achieved by the Bugatti Veyron Super Sport, the flagship Veyron's 267.8mph top speed still makes it the Guinness World Record holder, given it was recorded officially over two runs with the 267.8mph figure the average of both.
• Bugatti Veyron Super Sport driven
The new Bugatti Chiron packs more power than the Venom GT, its quad-turbocharged 8.0-litre W16 engine producing 1,479bhp. However, Bugatti has limited the top speed of its new hypercar to 261mph.
Meanwhile, Hennessey will aim to break its own official record in the future with the Venom F5 – a new hypercar with a promised 290mph top speed.
Now read our round-up of the fastest road cars on the planet.