'Recovering VW should still be more open on mpg'
Deputy editor John McIlroy thinks it's about time Volkswagen published real-world economy figures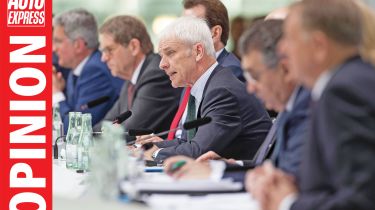 The Volkswagen Group has been through the mill over the past two years, but as it reported at its annual press conference last week, record sales of 10.3 million cars in 2016 suggest that it is bouncing back after Dieselgate.
I was in the audience as the VW board congratulated itself on the firm's spectacular recovery – although the fact that the bill for the scandal has now reached almost 20 million euros (and counting) must still sting a little.
When the men in suits opened the floor to questions, I asked VW Group boss Matthias Müller if he felt the company's brands should be following PSA Peugeot Citroen's lead in publishing real-world fuel economy figures for their cars.
VW's French rival issued more realistic data on around 1,000 cars a couple of weeks back, with figures produced using a test called the Real Driving Emissions standard.
The new RDE test isn't quite as precise as the lab work that determines the official fuel economy and CO2 emissions. But it's a useful guide to how much NOx cars are emitting on real roads, and how many miles they're really doing to the gallon.
• VW considering publishing real-world economy figures
Surprisingly, Müller replied in the affirmative. Well, almost: "What PSA did, we are currently also thinking about," he revealed. That's encouraging, but we're not entirely sure what bit of the process requires deep consideration.
As VW's own management admitted last week, the company has "a good way to go in regaining the trust of customers and the public". Giving us fuel economy figures that we have a faint chance of believing would be a good place to start, surely.
Would you like to see VW publish real-world fuel economy figures? Let us know below...