Volkswagen considering publishing real-world fuel economy figures
CEO Matthias Muller considering following PSA Peugeot-Citroen's lead when it comes to publishing more representative economy data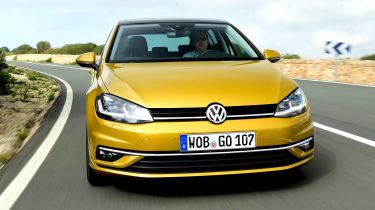 Volkswagen is considering following PSA Peugeot-Citroen's lead in publishing real-world fuel economy on its vehicles, the company's boss has revealed.
Last week, PSA published economy figures on around 1,000 of its models by extrapolating data recorded on a core number of vehicles that were tested using portable emissions kits mounted on cars driving along a selection of public roads.
The Volkswagen Group currently publishes only the official NEDC laboratory test figures, as it is forced to do by European law. But its CEO Matthias Muller - who said at the firm's annual press conference that VW has "a good way to go in completely regaining the trust of our customers and the public" in the wake of the Dieselgate scandal - told Auto Express that he was considering following PSA's lead.
"What PSA did, we are currently also thinking about," he acknowledged. "I do assume that in the foreseeable future, there will be something there."
• VW emissions scandal: the full story
Muller insisted, though, that the forthcoming new-spec European test - called Worldwide harmonized Light vehicles Test Procedure, or WLTP - would give a more accurate figure for car buyers, many of whom are frustrated by their cars' inability to match the NEDC figures.
"The WLTP test procedure is much more dynamic," said Muller, "and practically relevant. Therefore it will give you more realistic consumption and emissions data."
WLTP is expected to be activated this September, and to be compulsory for all new vehicles from September 2018. But many believe that its performance cycle is still too conservative; no hill climbs are included, and the fastest acceleration from from 0 to 30mph is 15 seconds.
What are your thoughts on the idea? Leave us a comment below...