Death of the manual handbrake: 30 per cent of new cars have manual handbrake
Fresh research uncovers only three in 10 new cars have a manual handbrake, with JLR, Lexus, Mercedes and Porsche going electric-only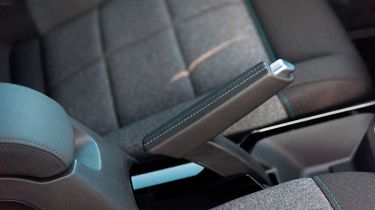 The manual handbrake is becoming an endangered species on the new-car market, with 70 per cent of current models coming only with an electronic parking brake with no manual option, new research has revealed.
And some manufacturers - namely Jaguar, Land Rover, Lexus, Mercedes and Porsche - have ditched the mechanical handbrake across their entire model lineup, meaning it's electronic or nothing if you want a car from these brands. 
• Electronic parking brakes: what are they and how do they work
The trend for replacing manual handbrakes with electronic ones is increasing, too: back in 2018 37 per cent of cars had a manual handbrake, with just 30 per cent having one today. Dacia and Suzuki are among the car makers to continue to offer a manual handbrake across their ranges, but with seven out of 10 new cars come standard with an electronic handbrake, the familiar ratchet sound of a brake being applied is set to be consigned to the history books.
Chris Knapman, editor of Cargurus, which carried out the research, said: "First introduced on a production car – the flagship BMW 7 Series – in 2001, electronic parking brakes have rapidly gone from being a novelty to what our research shows is now the norm. These systems might lack the tactile feel that some drivers value from a traditional manual parking brake, but they bring several benefits in terms of convenience, safety and packaging."
 A quick glance at last month's best selling cars backs up the findings, with six out of the 10 most popular cars coming with an electronic handbrake as standard. 
 

Car

 

 

Manual handbrake available?

 

 

 

 

Yes

 

 

 

 

No

 

 

 

 

No

 

 

 

 

No

 

 

 

 

No

 

 

 

 

Yes

 

 

 

 

No

 

 

 

 

No

 

 

 

 

Yes

 

 

 

 

Ford Ecosport

 

 

Yes

 
Jack Coursens, the AA's head of roads policy, called the rise of the manual handbrake "a sign of where car technology is going, as electronic systems take over manual and mechanical ones"
Cousens added there are "definitely some advantages to electronic handbrakes, such as the assistance they give for hill starts, and the fact they don't carry the risk manual handbrakes do of not being set firmly enough when people park on steep hills. 
But Cousens cautioned: "One concern might be that this is just another piece of technology to go wrong. And young drivers, who may well learn to drive in a car with an electronic handbrake, could find themselves having to learn a new skill if their first car has a manual brake."
He concluded: "As electronic parking brakes become more and more common, people may well hark back to the days of manual brakes; but then, do people really miss manual chokes?"
One drawback the demise of the mechanical parking brake brings, however, is the fact the handbrake turn - performed safely in track conditions, naturally - may become a lost art for the latest generation of drivers.
Are you sad to see the demise of the manual handbrake? Let us know in the comments below...