Ultimate Car Quiz of 2016
We've compiled a massive 100-question quiz to test your car knowledge from the past 12 months! How many can you get right?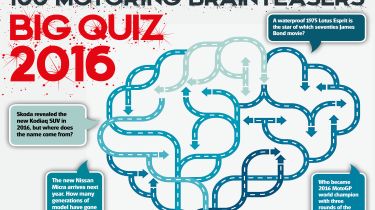 Do you think cars and motoring are just the bees knees? Do you keep yourself on top of all of the car news, reviews and developments in car tech? If you answered "yes" to any of these, you might just be qualified to take on our ultimate car quiz of 2016.
We've built this quiz to find out just how much you know about the last 12 months of motoring, new cars and what has happened in the motorsport calendar, too. So, it's time to get your thinking caps on and get energised after you've had one too many mince pies during the Christmas festive season. Be prepared, though, as our massive one hundred-question brainteaser is enough to trip up even the most up-to-date car enthusiast.
The quiz will tackle a number of areas, including the latest news from the last 12 months in terms of new cars and motorsport, cars that star in movies and TV shows, and neat facts about the motoring world in the USA. There's also questions on car history, celebrities and their cars and a "Where in the World?" section. To top it off, there's a final section on special details of new cars on sale now - can you guess what they belong to? If you're a committed, detail-oriented car buff then you might be OK with this section, if not you may well struggle!
When the Auto Express Ultimate Car Quiz 2016 is complete you'll be given a mark out of 100. Let us know how you get on by sharing your score on social media and see how you fair against your friends and family.
Finally, we know this quiz is difficult but no cheating! We believe in you! Good luck and have a great 2017...
Auto Express Review of the Year 2016
• Car news highlights of 2016 • Best cars we drove in 2016 • Head-to-head: Best car group tests of 2016 • Best car videos of 2016 • Best motoring features of 2016 • Best bits of 2016 - by the Auto Express team • Ultimate car quiz 2016