The best bits of 2016 - by the Auto Express team
2016 was another exciting year for Auto Express, and here the team pick their best bits of the past 12 months
2016 was an exciting year in general - especially for the motoring world. As always, the Auto Express team was at the forefront of the action, and between us we've experienced driving the hottest new cars, creating features, breaking news stories and everything else that goes into making the UK's best motoring magazine and website. Here we take a look back at some of our favourite moments of the past year.
The most memorable experiences aren't necessarily just driving the fastest cars, either. The team has chosen some interesting moments that really stand out to them, whether it be meeting and interviewing a boxing champ or turning whiskey into biofuel. All we can say is that we hope 2017 proves equally memorable - for all the right reasons.
Steve Fowler, Editor-in-chief
Meeting the team that builds Jaguar's F-Pace
Some cars are so good you remember precisely where and when you first got behind the wheel. That's true for me with our Car of the Year, the Jaguar F-Pace. But great though that was, it wasn't my highlight of the year. Nor was the moment I handed our ultimate accolade to Jaguar Land Rover chief exec Ralf Speth at our awards ceremony. For me it was re-presenting the award to the Jaguar workforce at the F-Pace factory in Solihull the next day. The team do a brilliant job, and it was clear the award meant a huge amount to them.
Graham Hope, Editor
A fascinating day in Whitehall
One of my abiding memories of 2016 came in January when Auto Express was invited to appear in front of the Government's Transport Select Committee, which was investigating how the vehicle type approval system could be reformed in the wake of Dieselgate. I defended the interests of customers while pointing out that VW had behaved in a predictable way given the scale of the crisis. What was eye-opening, though, was the line of questioning, which ranged from remarkably pertinent to somewhat ill-informed. It was a fascinating insight into the machinations of Whitehall I won't forget.
John McIlroy, Deputy Editor
Big thrills in the Big Apple
New York is such a hectic place that the idea of driving down a stretch of closed road in the city is usually something only ever experienced by Hollywood stunt drivers. But Jaguar achieved just that at the New York Motor Show, when it closed a 422-metre-long stretch of tunnel to allow us to experience the F-Type SVR. It was an intense few minutes, thanks to the noise of the 5.0-litre V8 bouncing off the walls and the focus required to keep the F-Type on course.
James Disdale, Chief reviewer
The enduring brilliance of the Citigo
• Skoda Citigo vs Ford Ka+ vs Vauxhall Viva
We get to test all kinds of cars at Auto Express, from scorching supercars to upscale SUVs. However, I have a real soft spot for city cars. As result, I was eager to see how the new Ford Ka+ would fare against its rivals. With its Fiesta underpinnings it proved to be refined, fun to drive and practical. Yet what our test really highlighted was the fundamental brilliance of the Skoda Citigo. Our five-times city car champ delivers an incredibly sophisticated driving experience, loads of kit and just enough space. You'd expect this sort of brilliance on an exotic luxury model, but not something costing as little as £8,000.
Jonathan Burn, News Editor
Flat-out at Spa in the Nissan GT-R
If you're a motorsport fan, there's no greater privilege than being able to drive around one of the world's most famous race tracks. Back in May, Nissan launched the updated GT-R at the Spa Francorchamps circuit in Belgium, and I was fortunate enough to be handed the keys and let loose on one of Formula One's most challenging circuits. The 4.3-mile track twists its way through the hills with violent inclines and steep descents, but the GT-R was more than up to the job thanks to unbreakable four-wheel-drive traction and 573bhp. Over half the lap is spent flat-out, so before I knew it my time was up. But it was absolutely thrilling.
Sean Carson, Senior Staff writer
Blown away by new soft-top MINI
I'm not generally a drop-top fan, but I was surprised by how good the new MINI Cooper Convertible was when we tested it back in May. It easily saw off the DS 3 Cabrio and Fiat 500C, blending MINI's fun-to-drive feel with clever technology, such as a sat-nav system that will tell you when it's about to rain. The full folding soft-top makes it a proper convertible, where its open-top rivals at this price only feature glorified sunroofs. But first and foremost it's fun, which is what cars like this should be all about.
Sam Naylor, Staff writer
Driving the breathtaking Clio R.S. 16
It's not often we're invited along to see a top-secret project from start to finish, but that was the case with the Renault Clio R.S. 16. My first encounter was at Renaultsport's HQ near Paris; the plan was to put the engine and gearbox from the Megane 275 into a Clio, making a modern-day version of the bonkers Clio V6. A few months later it was time for a passenger ride, and then finally in summer I got to drive the car myself. Its blistering performance was intoxicating, but sadly it won't make production.
Darren Wilson, Art director
New Car Awards photoshoot
For our New Car Awards issue in July, we celebrated the best cars of 2016 with a colourful photoshoot, setting off explosions of bright 'Holi festival' powder with coloured smoke grenades in an old airforce base in Suffolk. And the teamwork involved in achieving the effect was brilliant. From photographer Pete Gibson's initial idea, through testing to see if it would work and finally everyone involved getting completely covered in coloured pigment – and stinking of smoke – there were no complaints. Even cleaning the hangar floor afterwards was done in good spirits. What a superb team effort!
Richard Ingram, Reviews Editor
Sparring session with champ AJ
In July, we voted the Jaguar F-Pace as our overall Car of the Year. But the spectacular SUV wasn't the only British champion to grace the pages of Auto Express in 2016. We also met up with boxer Anthony Joshua, who had recently been crowned IBF heavyweight champion. In a half-hour verbal sparring session, we peppered AJ with questions on his career and cars. Turns out he's more of a 'dieselhead' than a petrolhead, though, rating comfort and convenience over outright speed. Funny that, as his current car is a tricked-out Jaguar XJR! Still, it was great to catch up with such a humble sporting hero.
Joe Finnerty, Consumer Editor
Recreating history in a Leaf
A step back in time ranks as my highlight of 2016. An adventure to Germany in a Nissan Leaf might not sound too enticing, but when you're recreating the very first journey to refuel a car 130 years ago, it takes on a certain significance. The Bertha Benz Memorial Route in south-west Germany is fascinating right down to the chemist where the stop took place that has been lovingly restored. What's more incredible is that we did the route on a solitary charge...
Martin Saarinen, Consumer reporter
Turning whiskey into an eco fuel
• Could whiskey be the fuel of the future?
Being a fan of whisky and cars isn't easy, as you can't enjoy the two at the same time. But a biotech company, Celtic Renewables, has found an interesting solution. We visited the Edinburgh-based company busy converting the two billion litres of annual waste from Scotland's whisky industry into biobutanol – a fuel that can be used in petrol or diesel engines without any modifications. The process helps to cut down CO2 emissions and recycles waste into fuel, and we raised a glass to their innovation.
Stuart Morton, Managing Editor
Bagging a bargain in Half-Price Heroes
Anyone with even a vague interest in cars would have been left with an itchy wallet after reading our Half Price Heroes special in February. There was a second-hand star for everyone, from bargain runabouts to cut-price supercars. But for me, the highlight was a hugely talented family car that can now be picked up for peanuts. The Ford Mondeo Mk4 is practical, still looks quite fresh and is better to drive than the model that's replaced it. Yet prices have plunged as buyers have switched to crossovers and SUVs, and now start at around £2,500. Bargain!
James Batchelor, Head of video
Picks of the year...
What a year it has been! We've bought you over 200 videos and there have been over 30 million views on our YouTube channel. Choosing my favourite was hard, so I cheated and picked four...
Track battle: Ford Focus RS vs BMW M2
Two of 2016's star cars were the Ford Focus RS and the BMW M2, so we brought the pair together for a titanic track battle. It was the Ford's 345bhp vs the BMW's 365bhp, four-wheel drive vs rear-wheel drive and a £16,000 difference in price. The two cars went head-to-head at our track at Llandow, Wales, in what was our most watched video of 2016.
Driving Fiat's 124 Spider
Cruising in the rolling hills around Verona, Italy, in beautiful sunshine, it was easy to forget the Fiat 124 Spider is a Mazda MX-5 in an Italian suit.
Type R and GTI drag race
Drag races made a return to our YouTube channel in 2016 and our viewers loved it. The most watched was the Honda Civic Type R vs the VW Golf GTI Clubsport S
Sailing in Aston's boat
One of our most unusual videos of the year saw us get the chance to drive a 1,000bhp Aston Martin in Monaco – the new AM37S speed boat.
What were your favourite motoring moments of 2016? Let us know in the comments below...
Auto Express Review of the Year 2016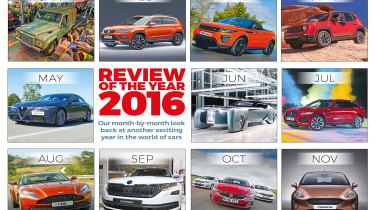 • Car news highlights of 2016 • Best cars we drove in 2016 • Head-to-head: Best car group tests of 2016 • Best car videos of 2016 • Best motoring features of 2016 • Best bits of 2016 - by the Auto Express team • Ultimate car quiz 2016