Head-to-head: Best car group tests of 2016
Our month-by-month guide to the best group test that we conducted during 2016
We tested a wide range of cars against each other in 2016, and there were plenty of close results. Some cars were superb and some were outclassed, but what were our favourite group tests of 2016?
New cars such as the Renault Megane, Fiat 124 Spider, Ford Focus RS, Mercedes E-Class and McLaren 570S stormed onto the scene in 2016 and we had it all covered as they clashed with their nearest rivals.
Plus, the likes of the Range Rover, Jaguar XE, Vauxhall Astra and the Porsche 911 had their position near the top of their class thoroughly tested as they went also went head-to-head against talented new arrivals.
Our group tests are the ultimate challenge for new cars, some instantly storm to the top of their segment, while others fail to hit the heights expected. So, if you're considering a new car, our group test verdicts show just what you should be looking for. All of our group test can be found here.
Scroll down to find out which group tests we've picked out in 2016…
January
New Mustang leaves F-Type trailing
Ford's sixth-generation Mustang is the first to be developed for right-hand drive, and our test proved it was a great move.
We pitted the Mustang against Jaguar's F-Type, and with its 412bhp 5.0-litre V8 and stunning fastback coupe looks, the Ford had the edge by offering muscle car pace for the price of a family saloon. Despite feeling cheap in places, it's a return to form for Ford, and a real performance bargain.
February
Focus RS wins mega hatch shoot-out
Just weeks after we first drove the new Focus RS, Ford gave us the chance to pitch the hot hatch against a pair of talented rivals. We took the Audi RS3 to Spain for a four-wheel-drive showdown alongside the all-conquering Volkswagen Golf R.
Ultimately we awarded the Ford top honours as it beat the VW by the "narrowest of margins". A price just over £30,000 was the icing on the cake.
March
L200 remains pick of the pick-ups
The Nissan Navara arrived aiming to topple the mighty Mitsubishi L200. With its sophisticated independent rear suspension layout and claims of SUV driving dynamics, it looked good on paper.
However, the L200's blend of lower running costs and more SUV-like refinement meant it saw off the challenge. Unfortunately for Isuzu, its D-Max was outclassed in this company.
April
New E-Class has exec saloon edge
Featuring some clever autonomous driving systems, a beautiful interior and an all-new, more refined 2.0-litre diesel, Mercedes' E-Class moved the executive saloon game on a step.
We pitched it against the Jaguar XF and Audi A6 for its first road test, and the E-Class took victory on account of its refinement, safety and comfort. The Jag countered the Mercedes' class with brilliant driving dynamics and decent efficiency, but neither it nor the ageing A6 could come close in terms of quality.
May
Bentley SUV loses out to ultimate Range Rover
The £161,375 Bentayga is Bentley's first SUV and aims to steal sales from higher-end Range Rovers. We brought it together with the top-spec Range Rover SVAutobiography for our test in May, and it combined explosive performance with luxury and refinement. But while the Bentley stood out with its amazing speed and sophisticated ride, it couldn't match the Range Rover's sense of occasion.
It was a close-run thing, but the Range Rover stole victory thanks to a few more sophisticated details that delight every time you see them. The Bentley is based on the cheaper Audi Q7 4x4, and in some areas you can tell, whereas the SVA feels more bespoke.
Neither is cheap to buy nor run – the Range Rover's eye-watering depreciation means you'd lose more than £100,000 in the first three years – but it offers more than the Bentley for less money.
Once the SVAutobiography's peerless off-road capability had been factored in, the Range Rover snatched road test victory.
June
McLaren has edge in supercar thriller
We're in a golden age for performance cars, thanks to hypercar hybrid tech. Yet our test of the McLaren 570S showed traditional power is still going strong.
With its F1-style carbon fibre chassis, beautiful steering, ballistic turbo V8 and sensational looks, it saw off Porsche's all-weather 911 Turbo and the stunning V10-engined Audi R8. The 570S went on to take 2016's Best Performance Car title.
July
GTI Clubsport loses out
Built to celebrate the iconic Golf GTI's 40th anniversary, Volkswagen's more focused Clubsport hit the UK in July. It had exclusivity on its side, with only 1,000 examples scheduled for Britain. However, it couldn't fend off Honda with its Civic Type R or SEAT's revised Leon Cupra in our road test.
We said the new Golf felt "less than the sum of its parts" and, for the money, the more usable Leon Cupra is a better bet. That's why the SEAT took victory.
Best Infiniti yet still trails BMW rival
The QX30 is arguably Infiniti's strongest effort yet. Featuring a Mercedes chassis and 2.1-litre diesel engine, the premium compact crossover beat the GLA on which it's based in our road test in July.
However, we reported that it's more of a jacked-up hatch. Add a limited range of trims and engines – plus a steep price tag – and the Infiniti lost out to the cheaper and more sophisticated BMW X1.
August
Talented new Megane wins family hatchback battle
Despite the rise of crossovers and SUVs, the family hatch market is still booming in the UK, so when the new Renault Megane arrived earlier this year, it had its work cut out as we pitched it against the best cars in the class. But it beat the tech-laden Vauxhall Astra and sportier SEAT Leon by a narrow margin, offering a mix of those cars' attributes while adding more refinement, a stylish design and a classy cabin loaded with kit into the mix.
It isn't as pointy or fun to drive as the two rivals it took on, but the Megane edged ahead of the competition with its comfortable ride. A family hatch has to cover a number of bases, and with a massive, best-on-test 434-litre boot plus decent performance from the 1.5-litre dCi diesel version we rated, that's exactly what the Renault does. To top it off, in Dynamique S Nav trim it was the cheapest car of our trio, yet offered the most kit.
Ford SUV has Edge over Mazda CX-5
Ford's Edge SUV added an injection of American style when it hit the UK, offering bold, muscular looks compared with some of the more generically styled 4x4s.
We tested it against the Mazda's CX-5, and the bigger Edge took victory thanks to its extra space and practicality. However, the Ford's size means it's not as efficient as the Mazda on paper, so business users will pay more in tax.
September
Honda's new NSX takes on Porsche 911 Turbo
Honda was determined to take its time developing its stunning NSX supercar. So a quarter of a century after the brilliant original upset the performance car order, its long awaited replacement aimed to repeat the feat against the sophisticated Porsche 911 Turbo on challenging Welsh roads. Featuring stunning looks, a hi-tech hybrid powerplant and the promise of unrivalled driving engagement, the Honda was billed as a supercar you could use every day.
The Honda's electrically assisted 3.5-litre V6 serves up devastating pace, but the beautifully balanced mid-engined handling and seamless integration of advanced mechanicals really stands out.
Yet the brutally fast 911 proved too much for the Honda. Not only was it faster and more involving, it delivered greater usability. The new NSX has been worth the wait, but the supercar world has moved on in the past 25 years.
MX-5 loses out to 124 Spider
The Mazda MX-5 has ruled the small roadster roost for decades, but this two-seat tearaway faced stiff competition as late summer allowed for a thrilling drop-top duel.
The Fiat 124 Spider shares many of its mechanicals and sheet metal with the Mazda – they're even built in the same factory. However, the Italian car's 1.4-litre turbo engine delivered more real-world punch than the Mazda's naturally aspirated 2.0-litre, and it took the win.
Kia Sportage is our top used purchase
Auto Express is always first for car news and reviews, but for many drivers nothing beats a second-hand bargain – and thanks to our annual Used Car Awards, these buyers were spoilt for choice in September.
With everything from runarounds to performance cars, there was something for everyone. We picked 17 category winners, but only one could claim the title of Used Car of the Year. After lots of deliberation, our judges handed the trophy to the recently replaced Kia Sportage.
VW is crowned Towcar of the Year
In mid-September we once again teamed up with the Caravan Club to run the rule over the best towcars of the year.
Stability, comfort, handling and pulling power were tested as we hitched up 47 new models at the Millbrook testing facility in Bedfordshire. There were six category winners and a pair of SUV champs, but the major plaudits were reserved for the overall winner – the VW Passat Alltrack.
October
Tipo has the edge in value battle
Fiat has realigned its Tipo as a value-focused hatchback, so we put it up against a couple of rivals whose prices are often heavily discounted: the Skoda Rapid and Citroen C4.
The all-new Fiat came out on top, thanks to a relatively strong engine and a comfortable chassis. It was also the cheapest car to buy outright, the least costly on finance, the cheapest to insure and the best option for business users.
November
High-class Giulia runs rivals close
The Stelvio SUV wasn't the only model breaking new ground for Alfa Romeo in 2016 – the brand also took ashot at the lucrative compact executive class with its ambitious Giulia.
Featuring head-turning looks, an engaging rear-wheel-drive chassis and a surprisingly upmarket cabin, the sleek saloon proved to be Alfa's best effort for years. Yet while it came close to victory, it just missed out to a pair of supremely talented rivals in the shape of the Jaguar XE and BMW 3 Series.
Q2 trails CX-3 in clash of small SUVs
Audi arrived late to the compact crossover class, but was determined to make an impact with its new Q2. Sharp looks, assured driving dynamics and low running costs were highlights, but the Audi was undermined by its high price and a lack of standard equipment.
In the final reckoning, the Q2 did pip the Mercedes GLA, but it had no answer to the talented and well equipped Mazda CX-3.
What was your favourite group test of 2016? Let us know below…
Auto Express Review of the Year 2016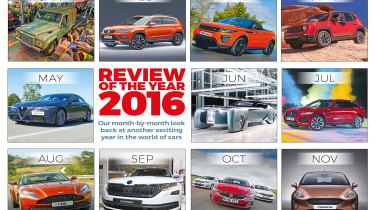 • Car news highlights of 2016 • Best cars we drove in 2016 • Head-to-head: Best car group tests of 2016 • Best car videos of 2016 • Best motoring features of 2016 • Best bits of 2016 - by the Auto Express team • Ultimate car quiz 2016