Isuzu D-Max pick-up review
The Isuzu D-Max is a Japanese pick-up truck that majors on utilitarian strength, while top-spec models are well equipped
The Isuzu D-Max is the only Isuzu on sale in the UK. But while the pick-up truck is the sole model it sells, it makes up for it with a wide range of variants on offer. There's a functional Utility model, plus Eiger, Yukon, Utah and Blade models offering increasing amounts of luxury, while the Arctic Trucks AT35 adds some off-road presence to the mix.
Updates to the D-Max have helped it to keep pace in the pick-up truck market. 2017 saw the introduction of a more efficient 1.9 diesel, which has the same power figures as the older 2.5, but is more efficient. This is the sole engine choice offered, although six-speed manual and auto gearboxes are offered.
Rivals for the Isuzu D-Max are the usual pick-up truck suspects, such as the Mitsubishi L200 (and closely related Fiat Fullback), Nissan Navara, Toyota Hilux, Ford Ranger, Mercedes X-Class, VW Amarok and SsangYong Musso.
The D-Max has a far broader range than any of these models, though. The Utility model is a genuine workhorse, and is offered in single cab, extended cab and double cab body styles. But it's also the most basic model, with steel wheels, unpainted bumpers and a basic interior. The Yukon is sold in extended and double cab body styles, but the rest of the range is double cab only. The extended cab version features extra storage behind the seats, while the double cab has the normal four-door layout with a rear bench seat and room for five.
More reviews for D-Max Pick-up
The rest of the D-Max range gets a visual upgrade over the Utility with painted bumpers and alloy wheels fitted as standard. Equipment on Eiger and Yukon models is modest, but the Utah and Blade versions are up there with rivals for standard kit, with sat-nav and other luxuries exclusive to Blade models.
At the very top of the range is the Arctic Trucks AT35. This monster is based on Blade trim, but adds huge 35-inch tyres, plus raised suspension and enlarged wheelarches to fit them in. It gives the D-Max real presence, although it's pretty expensive.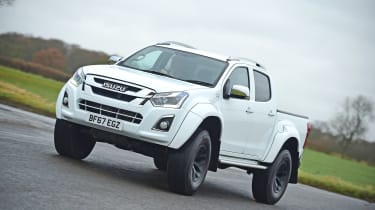 Overall, the Isuzu D-Max is geared more towards a work life than family life, but its rugged, no-nonsense character means it'll take pretty much anything you can throw at it. It's a great tow vehicle, too, able to haul up to 3.5 tonnes, while the load bed can easily carry over a tonne of cargo.
Prices for the D-Max start from around £16,800 for the Utility version, while the premium models start from around £22,000. At the top of the range, the Blade costs almost £30,000 with the auto box, while the AT35 is almost £39,000. These prices are all excluding VAT - add it, and the most you'll pay for a D-Max is a touch over £46,000.
MPG, CO2 and Running Costs
All versions of the Isuzu D-Max use the same 1.9-litre turbo diesel engine, which develops 163bhp and 360Nm of torque. That's the same power output as the old 2.5-litre unit, but with 40Nm less torque. However, Isuzu has shortened the gearing so that you stay within the power band, and if you're towing you won't feel the deficit.
With the six-speed manual gearbox the RWD D-Max returns 45.6mpg, with CO2 emissions of 163g/km. This drops to 40.4mpg and 183g/km on 4x4 models, and 4x4 automatic cars return 36.2mpg and 205g/km of CO2.
The Nissan Navara and Mitsubishi L200 are a better bet if running costs are a priority, with those trucks returning 44.9mpg and 44.1mpg respectively.
The Isuzu doesn't use AdBlue, so there's no worry about filling up a second tank at the petrol station like you would in a Navara. Plus, Isuzu offers an excellent warranty, at 5 years or 125,000 miles. That trumps both the Navara and L200, neither offering over 100,000 miles of cover.
Service intervals are at 12,000 miles or 24 months, which is comparable to the Mitsubishi L200's schedule: 12,500 miles or 12 months.
Depreciation
Isuzu isn't as desirable a brand as some pick-up truck makers, but that five-year/125,000 mile warranty gives the D-Max added appeal.
Load Space and Practicality
While other manufacturers are focusing on double cabs, Isuzu offers single and extended cab variants of the work-focused Utility model. It's also available with 4x2 and 4x4 drivetrains, and all trucks get a low-range gearbox that's useful for off-roading.
It's no bigger than before, but the D-Max now has a lighter engine, so the payload capacity has increased throughout the range.
The load bay in the single cab model measures at 2,305mm by 1,570mm, with a payload capacity of 1,282kg (or 1,196kg on the 4x4 model). Head up to an extended cab for dimensions of 1,795mm by 1,530mm and a payload capacity of 1,141kg.
The double cab gets a load bay of 1,552mm by 1,530mm, but the payload capacity varies based on the model you choose - with the maximum being 1,126kg. The towing weight for 4x4 models is 3,500kg, dropping to 2,500kg on the RWD model.
The D-Max has a larger load bay in equivalent bodystyles to the Navara and the Mitsubishi L200, as well as a slightly higher payload capacity. There's not much in it, but the Isuzu is still a top pick for all-out carrying capacity.
Isuzu also offers a wide range of load covers and hardtop backs for the D-Max range, for both extended-cab and double-cab models. A tow bar receiver hitch with electrics is available, plus roof bars, frames and cargo rails to hold loads in place in the bed. There's even a bed extender available that fits in the rear of the load bed to allow longer loads to be carried.
Specific upgrade packages are also available. The Huntsman pack is designed for field sports, and adds black trim and wheels, a lockable drawer system in the load bed and a truck top, plus off-road tyres for around £7,000. You can also add off-road suspension for extra ability.
There's also a Utility upgrade pack that can be added to the basic D-Max to make it look like and offer the same off-road ability as the Arctic Trucks AT35. For around £10,000 you get the big 35-inch tyres, alloy wheels, enlarged wheelarches, raised suspension, new dampers and side steps.
By offering a full range of cab options, Isuzu has covered every sector of the pick-up market, from single-cab workhorse to luxury dual-purpose double cab.
All D-Max models come with ABS brakes, electronic stability control (ESC) and traction control as standard, which is par for the course in the pick-up market. The front bumper and bonnet have been re-designed for better crash protection, too.
There's no word on the reliability of the new 1.9-litre diesel engine yet, but Isuzu offers a five-year/125,000-mile warranty on all models, which gives you some idea of how confident the brand is about the D-Max.
In fact, an unmodified D-Max competing in the British Cross Country Championship rally racing series was the only competitor for two years running to never have a mechanical failure. It feels rugged and robust, and owners swear by their reliability.
In the cab, even the basic Utility trim models have dual front, side and curtain airbags, and height-adjustable seatbelts for maximum occupant protection. Four-wheel-drive models have the benefit of 4x4 selection on the move for added security in slippery conditions, and hill start assist and descent control is standard on all cars as well.
The 'Aeroklas' load bay canopy now gets heated glass, but it also features remote locking and a wider-opening tailgate as well. Remote locking extends to the lower tailgate on high-spec Blade models. While a tailgate damper means the rear opens smoothly and without the risk of falling open.
From our experience, adding a truck top for the load bay can restrict rear visibility a bit. If you go for a model with tinted rear glass and tinted glass for the truck top, then this all but obscures rearward visibility. Add in the lack of a rear wash/wipe for most load covers, and the view out the back is all but non-existant in the winter.
The Isuzu D-Max only has one engine, a 163bhp 1.9-litre diesel, but even with 40Nm less torque than the previous 2.5 engine, it's a strong performer. With new manual and automatic gearboxes that feature shorter ratios, performance feels pretty much the same as before.
However that very short first gear means you've barely pulled away before you need to shift up to second, and if you're unladen there's no problem with pulling away in second gear. That's something of a blessing, because the vague gearshift really lets the side down. Changing from reverse into first needs a precise input, because reverse doesn't necessarily disengage, while shifting up or down needs a deliberate action from the driver.
We prefer the auto box, because at least you don't have to worry about shifting gear. However, the auto has its shortcomings because it's hesitant in its responses, so you have to plan ahead if you're pulling away at roundabouts, while the gearbox kicks down readily when you accelerate.
And high revs give away the harshness of the new 1.9 diesel. It's rattly and noisy when cold, and when you let the revs rise, the engine has a very harsh note, with plenty of noise in the cabin. At speed, the engine settles down into the background, but any time you have to change down to build up speed, you're reminded of how noisy the engine is.
A high driving position gives you a good view of the road, and while the steering is slow the D-Max isn't that far behind rivals for handling. Go for a Utility model, and the suspension is geared more towards load carrying, so it can get extremely bouncy when you're unladen. Go for a top-spec Blade model and things are far more comfortable, as this is seen as the model that will be popular with buyers looking for a working family vehicle.
Not surprisingly, the Utility specification models are very basic inside the cab, with easy-clean trim and plenty of hard plastics to stand up to work use. However, even the most basic models have Bluetooth connectivity, air-conditioning, LED daytime running lights and electric windows.
Opt for the Eiger trim, the lowest of the premium double-cab models, and you get a reversing camera, alloy wheels, body coloured bumpers and a CD player. Move up to Yukon spec and you add 18-inch alloys, a seven-inch touchscreen display, a leather steering wheel and cruise control.
The Utah model also comes with keyless go, sat-nav, Apple CarPlay and Android Auto, DAB radio, leather heated seats, roof bars and automatic air-con.
Top-spec Blade models get an upgraded 9-inch screen which looks pretty good, but is a rather frustrating unit to use, with an unclear menu system. There's a bank of physical menu buttons under the screen, but these look and feel very cheap. They're too small to press with gloves on, too. You also get upgraded leather seats and the option of a load bay canopy.
Sadly the interior of the D-Max isn't anywhere near as good as the Navara or L200, its main rivals. The plastics are clearly built to be hard-wearing, but that's the same in the rival trucks and those feel much closer to a modern SUV. The D-Max is improved, but interior refinement and quality is still a poor point.
Van dimensions
Body style
Height
Width
Length
Single Cab 4x2
1,685mm
1,775mm
5,315mm
Single Cab 4x4
1,780mm
1,820mm
5,315mm
Extended Cab 4x4
1,780mm
1,820mm
5,295mm
Double Cab 4x4
1,785-1,795mm
1,820mm
5,295mm
(Overall width is without mirrors. Width including mirrors: 1,860mm)
Load area dimensions
Body style
Height
Width
Length
Volume
Single Cab 4x2
440mm
1,570mm
2,305mm
1.59m3
Single Cab 4x4
440mm
1,570mm
2,305mm
1.59m3
Extended Cab 4x4
465mm
1,530mm
1,795mm
1.27m3
Double Cab 4x4
465mm
1,530mm
1,485mm
1.05m3
(Width is at widest point. Width between wheel arches: 1,115mm)
Which Is Best
Cheapest
Name

1.9 Single Cab 4x2

Price

£19,913
Most Economical
Name

1.9 Single Cab 4x2

Price

£19,913
Fastest
Name

1.9 Single Cab 4x2

Price

£19,913