This week's issue of Auto Express
The latest issue features our verdict on the new Range Rover Sport and official pictures of the BMW 4 Series Coupe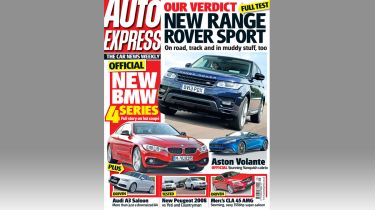 In this week's issue of Auto Express - out on 19 June 2013 - we test out the new Range Rover Sport, and reveal how it stacks up against its bigger brother. Plus, find out all you need to know about the BMW 4 Series Coupe and indulge in exclusive images of the Aston Martin Vanquish Volante.
We learn the tricks of the trade at Hyundai's salesman school, discover what lies behind the fine art of car selling, and what the manufacturer is doing to improve the image of salesmen.
In drives, we experience the new Audi A3 Saloon, set to be the biggest selling A3 globally. We also take a look at the Mercedes CLA 45 AMG, Suzuki SX4 S-Cross, Nissan 370Z Nismo, Hyundai ix35 and Mercedes E250 CDI.
Our road test team pushes the Peugeot 2008 to its limits, against the tough-looking Skoda Yeti and the high-riding Mini Cooper Countryman. Plus, there are all your usual product reviews, buyer's guides and letters are included, too.
Issue 1,273 will be on sale for the next seven days from Tesco, Sainsbury's, WHSmith, Asda, Morrisons and all good newsagents. If your local newsagents does not stock Auto Express, simply ask them to order a copy for you at no extra cost.
Alternatively, you can claim six issues for £1 and have the magazine delivered straight to your door every week, download our iPad edition.