Drop-tops
We compare Audi's TT Roadster to the Porsche Boxster, Nissan 350Z and Mercedes SLK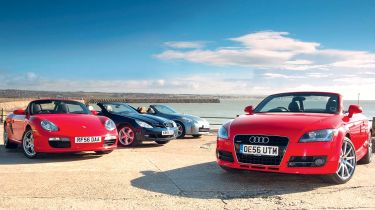 Want to make a splash this summer? There's no better way of making waves on British roads than at the wheel of a drop-top. And hitting our shores in time to make the most of 2007's sunshine is the second- generation Audi TT Roadster.
You'll have to be fast, though. With 700 advance orders already taken, this promises to be the year's hottest convertible. And that's no surprise given its predecessor was a run­away success, selling more here than in any other country in the world, including Germany and the US. The newcomer promises to take over where the old one, launched in 2000, left off. Featuring radical aluminium and steel construction, it's claimed to be 75kg lighter and 120 per cent stiffer than its predecessor. First customer deliveries begin next month, with prices starting at £26,915 for the 2.0T. Here it's the top-spec 3.2 that does battle.
But it's not the only German roadster that's intent on putting its towel on the lounger first. Porsche's Boxster was crowned best roadster at our New Car Honours 2005 and was updated at the tail-end of last year with more power and standard stability control. Nor can you discount the Mercedes SLK 350 with its muscular V6 and elegant folding hard-top.
Our final contender comes from the far east. The mighty Nissan 350Z Roadster is the most potent of this quartet, yet the cheapest. All four promise to be as good to drive and live with as they are to look at, but has Audi done enough to blow its rivals out of the water?
Verdict
These are four great roadsters, and each has its own unique selling point. The new Audi TT Roadster has unbeatable quality and design, the Porsche Boxster offers peerless driver appeal, the Nissan 350Z majors on value and charisma and the Mercedes SLK possesses that stunning folding metal roof.
Although this means each is in with a shout of winning, gaps begin to appear. First to fall is the Mercedes. It's expensive, has a poorer finish than the Audi and is the least enjoyable car to drive. Low-quality plastics affected the third-placed 350Z, which also lost out due to its cheap roof and limited practicality.
Splitting the Porsche and Audi was harder. Our heart said Boxster, the head said TT – and due to its poor equipment, higher costs and inferior refinement, the Porsche lost out by a small margin. The TT is a great addition to the roadster market – although the 2.0T version is likely to be an even better all-rounder.