Dodge Nitro vs Nissan Pathfinder
The latest addition to the Dodge line-up is the chunky Nitro SUV. It has bold looks and plenty of standard kit... so is the writing on the wall for its Nissan Pathfinder rival?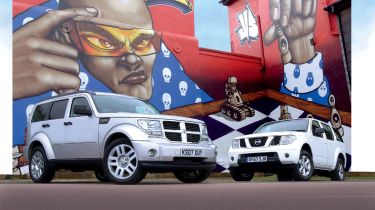 There's a new off-roader in town, and it isn't exactly the shy and retiring type. The all-American Dodge Nitro arrives in the UK with bold styling that helps it to stand out from the crowd.
There's no doubt it's packed with character, and it comes with a powerful V6 engine under the bonnet. But Dodge knows that a thirsty, 3.7-litre is going to have limited appeal to cash-conscious, fuel economy-savvy British buyers, so a diesel engine is available, too.
This turbocharged unit also packs a punch – it's a 2.8-litre delivering 174bhp but promising to return more than 30mpg. Buyers can choose between a six-speed manual gearbox and five-speed auto, and there are two trims available – SE and SXT – with the base manual SE costing £18,995. Our SXT test car comes with an automatic gearbox that takes the price to £23,590, which is £1,000 more than the manual 2.8 CRD SXT.
Nissan's Pathfinder was introduced as a cut-price Land Rover Discovery alternative, but it's very much a natural rival for the Nitro, too. The entry-level Pathfinder Trek has recently been revamped and is very closely priced to the Nitro at £23,395. Nissan doesn't bother with a petrol engine for the Pathfinder, and although its 2.5-litre turbodiesel is smaller than the Nitro's, it's nearly as powerful.
Both contenders look very closely matched – so which one is good enough to win this test?
Verdict
The Dodge Nitro's butch styling may not be everyone's cup of tea, but it attracted plenty of admiring comments during our test, so it clearly appeals to some. Of course, styling is a matter of taste.
However, there's absolutely no excuse for the low-rent interior, vague steering or excessive body roll. Its diesel engine performs well, but compared with the Nissan, the Dodge simply doesn't feel like a modern SUV.
Nissan has given the Pathfinder a lot of off-road ability – much more than most customers will ever use. If it was a little less off-road oriented, its on-road manners would undoubtedly improve. But for what it is, the Pathfinder drives exceptionally well. It is more comfortable, engaging and reassuring than the Dodge, plus the cabin is a better place to spend time, even if it is not as well equipped as its rival.
And although the Pathfinder is more expensive to service than the Nitro, at least it can be driven out of the showroom secure in the knowledge that it will hold on to its value better. Overall, the Nissan is the smarter choice, and that's both in the short and the long term.