Estates go head to head
Never considered an estate? Today's models offer more practicality and driving finesse than ever. That's why the sector is booming with buyers...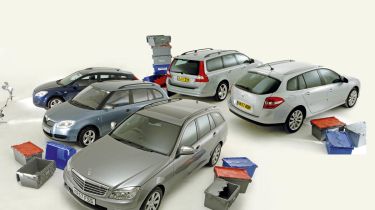 Station wagons, sport tourers, load-luggers... call them what you will, but they can all be summed up in one word – estates. The original multi-purpose vehicle, they were initially designed to carry loads that saloons or hatchbacks couldn't.
But as the market diversified, the estate fell out of favour, with families opting for trendy off-roaders or flexible compact MPVs instead. However, a backlash is now underway, as buyers realise how well estates can cope with the rigours of modern life.
No longer are they big and boxy. Thanks to so-called 'lifestyle' models, the estate is fashionable again. So here we've brought five of the latest and greatest together and put them through their paces.
What are we looking for? Well, it's much more than simply a numbers game – although outright boot capacity is a key factor, we'll be testing every aspect of the load area for versatility and user-friendliness. And we'll be on the lookout for extra features such as innovative tailgates, useful storage, easy-folding rear seats, cargo strapsand retractable load covers.
One thing's for sure – estates don't just come in a standard size any more. Our cars range from the supermini-based Skoda Fabia Estate up to the executive Volvo V70, taking in estate versions of a hatchback, family saloon and compact executive. So there's something to cater for all budgets.
Of course, we've also worked our five contenders hard on the road. Our team has exhaustively tested each car, taking into account everything from performance to refinement and running costs to engine emissions.
So, what are the ingredients that help to create the ultimate modern estate car? Read on to find out –and be prepared for one or twosurprises along the way...
Verdict
FOR years, estates have been the underdogs of the family car class. They're neither as big nor as desirable as off-roaders, and lack the versatility and seating capacity of compact MPVs, too. But what this test proves is that there's plenty of life in the load-lugger market.
So what do our five rivals have to offer? We haven't ranked these cars since they're all so different, but if forced to pick a winner, it would be the Kia Cee'd SW – its vast load bay and excellent value for money are truly impressive. But all five cars have their strengths. The Skoda has a big carrying capacity for its class and its solid build quality is hard for rivals to match. The Laguna, meanwhile, is a well thought out, easy-to-use car with a self-retracting load cover and rear seats that fold by themselves.
Mercedes' C-Class proves that you don't have to compromise driver enjoyment when buying an estate. And the standard electric boot closing and hard-wearing trim show it's still a versatile load-lugger. Similarly, the latest V70 makes up for not being as big as you'd expect with lots of extra nets, straps, dividers and rails.