Land Cruiser vs Range Rover
Toyota is taking the bold approach and moving its land cruiser upmarket as it aims to steal sales from the undisputed luxury 4x4 king, the Range Rover. But is it a step too far? We put the pair in at the deep end to find out.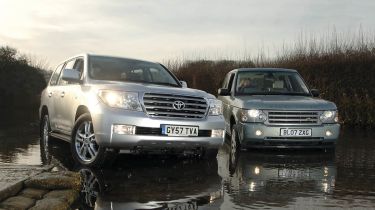 IF you want an off-roader that offers status, heritage, luxury and refinement, surely there's only one option? Nothing comes close to the Range Rover, right?
The firm has certainly built up an unrivalled reputation since the first version was launched back in 1970. It single-handedly created the premium SUV market and pioneered the concept of an off-roader that's equally happy on tarmac.
But one firm can trace its history back even further, and has a reputation to rival the British marque's. The first Toyota Land Cruiser appeared in 1954 and quickly established itself as one of the toughest, best built and most capable off-roaders around.
Although early models were designed primarily for heading into uncharted territory, successive generations of the Japanese 4x4 have reflected buyers' needs and become more competent on-road, too.
And now the new eighth-generation Land Cruiser V8 is here. It's built on a completely redesigned platform and powered by a new 4.5-litre twin-turbo diesel V8 mated to Toyota's latest six-speed automatic.
Promising exemplary comfort and refinement, as well as improved safety and driver appeal, it aims to take on the might of its European premium rivals. It also comes with seven seats as standard, a long list of equipment and a reliability record which isn't in doubt. But what about desirability? Has the Toyota got what it takes to sink the challenge of the mighty Brit?
Verdict
TOYOTA spent five years developing the new Land Cruiser V8, and it's obvious how highly engineered and well built it is. It's certainly a serious 4x4 rather than a soft-roader, but unfortunately it's not talented enough in everyday conditions to rival the Range Rover.
The design is bland, and although it's big, the Toyota rarely gets a second glance. It's a similar story inside, where the dull cabin does little to inspire. Standard kit is generous though, with every gadget you could need.
Sadly it's disappointing on tarmac, with an unsettled ride and lifeless steering. This is a real surprise given Toyota's claims to have improved on-road dynamics and limited body roll. Similarly the new D-4D engine is strong, but not as refined as we expected.
When it comes to luxury travel, few cars can match the Range Rover. The sumptuous cabin is a work of art – even better is the fact that it's comfortable, spacious and has a special feel. It is expensive though, especially in top-spec Vogue SE guise, but even if it's beyond most people's budgets, unlike the Toyota, you do feel it's worth the price tag.