Sunday-best group test
It's the weekend, the diary is empty – and if you get up early enough, so are the roads. but which car would you choose to put the fun back into driving? that's the challenge we set our team as we headed to the mountains of snowdonia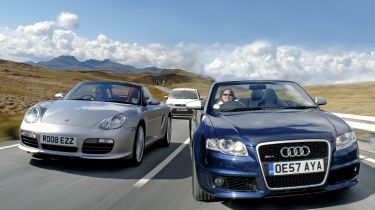 Pull back the curtains, let the sunshine stream in and get ready to hit the open road. What car could tempt you out of bed early on a Sunday morning?
With more commuters being forced on to public transport by rising motoring costs, the prospect of owning a car that places fun over function is now more realistic. But not everyone's idea of dream weekend wheels is the same. The fact it would have to put a smile on your face goes without saying, yet there are plenty of other factors to take into account. The way your car sounds, looks and performs is also essential – and it must be both charismatic and involving.
So what models would make our own road testers rise with the lark at the weekend? That's what we wanted to find out for the second in our series of road test challenges. Each member of our team was given free rein to choose their dream machine, and blow the cobwebs away.
With the cars selected, road test editor Chris Thorp handed over the challenge: rise before dawn and drive to Bala in North Wales – home to some of the UK's finest driving roads and most beautiful scenery. Once there, each tester needed to prove why their car was the best by tackling an epic route through Snowdonia.
Each of our three contenders is rated in 10 key categories, ranging from driving position and cabin ambience to steering feel and brakes, giving a score out of 100. So with alarm clocks ringing, Owen Mildenhall, David Ross and Lesley Harris were ready to put their choices to the test.
Verdict
Totting up an impressive 85 per cent score, the Boxster narrowly beats the RS4 to the top spot here. Its a supreme all-rounder, and perfect for a Sunday morning drive.
The mighty V8-powered RS4 Cabriolet is a great weekend companion. Its four-seater cabin is a huge selling point, but it can't quite live up to the thrilling Boxster.
With a score of 73 per cent, the Focus ST lags behind its rivals. Yet it's by the far the most affordable car of this trio, and still left all of us with big smiles on our faces.