The Clean Machines?
Eco-friendly or merely green gimmicks? Our road test team delivers its expert verdict on the new Ford Focus ECOnetic – as well as seven other cars which profess to save not only the planet, but also your wallet...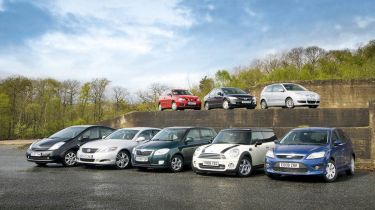 Are there any environmentally friendly cars that will make you go green with envy, or will their real-world running costs leave your bank manager feeling blue?
We all know that lowering emissions and increasing fuel economy are major Government priorities for motorists – and car makers are catching on to the new wave of eco-enthusiasm. Each manufacturer has a different solution, ranging from the launch of standalone green models to low-CO2 sub-brands. But all aim to offer genuine benefits to the environment… and your pocket.
Carbon dioxide emissions can now make or break a new model. The gas has become the yardstick by which a car's 'greenness' is measured. For UK buyers, there can be no more significant launch in the low-CO2 world than Ford's ECOnetic range. The first model to wear the badge is the recently revised Focus, and we've brought it together with seven other models that stand out for their eco-friendly aspirations.
Another efficient newcomer is Skoda's Fabia GreenLine, which lines up with its low-CO2 VW Group rivals: the Polo Bluemotion and SEAT Ibiza ECOmotive. We've also assembled a trio of petrol/electric hybrids: the popular Toyota Prius, Honda's oddball Civic Hybrid and the executive Lexus GS450h.
Completing our group is a car that doesn't shout about its eco credentials. The MINI Clubman Cooper D is fitted with BMW's Efficient Dynamics package.
So which cars offer genuine environmental benefits and which are built to cash in on our desire to go green? It's time to find out.