Peugeot 308 SW vs Ford Focus Estate
Flexibility is the top priority for Peugeot's clever new seven-seat 308 SW. We see if it's a better buy than a traditional estate, in the shape of Ford's Focus...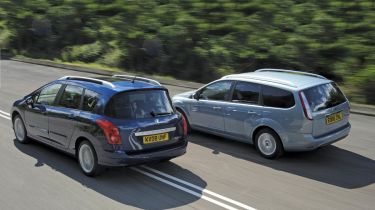 The original space race reached a climax on 20 July 1969, when Neil Armstrong became the first man to set foot on the moon. Now, 39 years later, there's a new space race being fought right here on planet earth!
Traditional estate cars used to be the default choice for anybody wanting a spacious family model, but MPVs and SUVs have stolen their thunder in recent years. With distinctive looks and added practicality, it's easy to see why sales in these classes have rocketed – yet an old-school estate is still hard to beat if luggage capacity is right at the top of your agenda.
With so much competition around, load-luggers have upped their game. Not only do they score on space, they also offer more flexibility, and have added a dose of style, too. And these two contenders are the perfect example of the new breed.
The all-new Peugeot 308 SW is an estate that likes to think it's an MPV. While it shares its underpinnings with the regular hatch, it comes with the option of a third row of seats. As a result, its interior has more in common with a people carrier than a normal estate. We line it up here against Ford's new-look Focus carrier.
Recent revisions to the range give the Focus the sleek look of the Mondeo, but the estate follows a simpler template than the 308 SW, and is a strict five-seater. Can the practical Peugeot beat the conventional Ford, or will the facelifted Focus burn-up on re-entry?
Verdict
RECKON you've guessed the winner? You may have to rethink. We've prioritised space and price, and that's left the Focus lagging behind.
It's easy to see why the Ford is a best seller. The excellent on-road dynamics and spacious cabin make it a great choice for anyone who's in the market for a simple family estate.
However, in this test we're looking for the most versatile model – and the Peugeot's flexible interior makes up for weaknesses elsewhere. It can be configured to optimise luggage capacity or passenger space.
The SW is less convincing without its extra pair of seats, but even when the optional £495 are items fitted, it undercuts the Ford on price.
Add in the glitzy glass roof, sunblinds in the back doors and opening rear windscreen, and the Peugeot is simply more fun – and that makes it the winning package here.