Face Value
The revised Octavia upholds Skoda's reputation for low costs. But is it a more sensible buy than the all-new entry-level VW Golf, as well as key Renault and Honda rivals?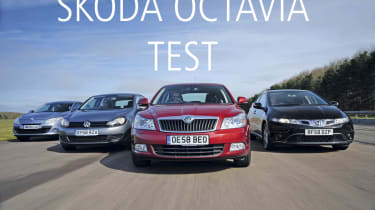 Supersizing your compact family car's value for money is 2009's big trend. Going large on shrinking bills has long been the Skoda Octavia's party trick, but the competition is getting tougher – and the all-new VW Golf is leading the charge.
So the Octavia has been given a bold new look, as well as a mechanical makeover, in an effort to get noticed, and make sure potential buyers aren't more attracted to entry-level versions of the VW.
But let's not forget the rest of the competition. If there's one thing buyers in the compact family hatchback market can be, it's picky. We have included two other top-value contenders, in the shape of Renault's distinctive new Mégane and the superbly practical Honda Civic.
What's more, to make our contenders work even harder for your money, we've chosen basic petrol engines across the board. This not only keeps the list price down, but also allows you to take advantage of the fact that unleaded is 10 per cent cheaper at the pumps than diesel at the moment.
Will the Octavia remain the king of the super-savers? It's time to find out!
Verdict
Buyers looking for an affordable family car have rarely had it so good. The Golf and Mégane are only months old, while the recently revised Honda and facelifted Skoda both improve on the strengths of their predecessors.
Despite all this fresh talent, one car stood head and shoulders above the rest in this test. With more space and performance than the competition, the new Octavia is hard to argue against. And when you consider its accomplished handling and excellent cabin, you begin to wonder how the firm can afford to sell it for £14,560!
Only the smaller and slower Honda beats it on price (by £20) so the Czech hatch is our clear winner. The Civic takes second by virtue of its practical cabin, sparkling dynamics and smooth 1.4-litre engine. When it comes to driver enjoyment, it leads the way.
Separating the final two was less clear cut, but the traditional strengths of a classy cabin and strong image give the Golf the edge. Although the less refined and cheap-feeling Mégane is an attractive family car with fine dynamics, it doesn't have the all-round talents of its rivals.