Jazz v i20 v Fabia
Autos are more sophisticated than ever – but do they make sense in small cars? We pit Honda's new Jazz i-SHIFT against key rivals...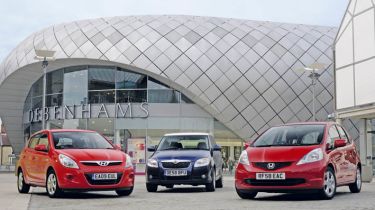 Automatic gearboxes used to be the preserve of luxury saloons with thirsty engines. But these days, you can nip to the shops in anything from a city car to sporty coupé with only two pedals.
Superminis are among the biggest beneficiaries. They're large enough for growing families and small enough to cope with urban congestion. The versatile Honda Jazz makes more sense than most. The last model was compromised by its CVT box, but that's been replaced by an i-SHIFT automated manual set-up. Traditionally, such systems have struggled to match the smoothness of conventional self-shifters, so here we put it to the test.
At £10,845, Hyundai's i20 is the cheapest car here, although it has only four speeds. The manual Jazz and i20 have been beaten in tests by the Ford Fiesta in Issues 1,038 and 1,046, but the flagship version of our final contender – the Skoda Fabia – is only £65 more than the cheapest auto Fiesta. In fact, the base Fabia starts at £11,180, and its Tiptronic set-up has six ratios. Will it have the edge on the high street?
Verdict
Go back a few years, and small automatics were prohibitively expensive to buy and poor to drive – yet the latest crop shows just how seriously makers are taking autos of all shapes and sizes. So, which supermini performed best?
You'd expect the Fabia to score highly in any test, but its six-speed box arguably has too many gears to choose from. The indecisive set-up compromised our enjoyment of the Skoda, while its noisy engine left it feeling unrefined. As a result, it was edged into third place.
Both the Hyundai and Jazz have finished second to the Ford Fiesta in previous Auto Express road tests. The blue oval model was too expensive to figure here, leaving the Hyundai to put up a strong fight. However, the i20's attractive price and generous kit were let down by the four-speed automatic gearbox on the road.
As the sole automated manual model in our trio, the Honda beat the traditional self-shifting cars at their own game. While it's not as smooth, its strong predicted residual values, manual controls, practical cabin and excellent fuel economy make it the clear winner.
1st: Honda Jazz What it sacrifices in smoothness, the practical Honda makes up for with superior fuel economy and low emissions. Anyone familiar with the CVT transmission in the previous model is unlikely to be disappointed by the company's new automated set-up.
2nd: Hyundai i20 The value-for-money experts at Hyundai have done it again. At £10,845, the i20 is much cheaper than its rivals. It can't match the versatility of the Jazz, and its four-speed auto needs another ratio, but it's spacious and good to drive, as well as affordable.
3rd: Skoda Fabia On paper, the Fabia strikes a decent balance, with a six-speed auto and a sequential function for manual changes. But it's let down in practice by its indecisive software and noisy powerplant. Sealing its fate are unacceptably high CO2 emissions of 180g/km.