Top of the stops - Braking test
We pick the cars with the best brakes in six classes and put them through their paces in an emergency stop shoot-out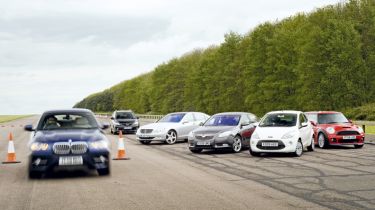 Finding out how fast new cars can go is easy – but what about how quickly they stop? While data about power and torque outputs, top speed and 0-60mph sprint times are all simple to find in glossy brochures, how a car comes to a halt is much harder to quantify. That's why we record stopping distances in our road tests.
Manufacturers have made huge strides in braking performance over the past 20 years. Thanks to anti-lock braking systems and the latest tyre technology, modern cars stop more quickly and safely than ever before.
To see how good the latest generation is, we gathered six of the best for the ultimate braking and stability test. They are the fastest-stopping cars we've driven this year in their respective sectors.
At the top of the scale is the imposing Mercedes S-Class, which rules the roost in the luxury sector, while the blurred car in our main photo – a BMW X6 – represents full-sized SUVs. The Mazda 5 upholds the honour of the compact MPV class, and Vauxhall's Insignia is the fastest stopping large family model we've tested so far this year. Superminis are represented by the MINI Cooper JCW and finally the Ford Ka is our contender from the city car class.
** How would they cope with a 70mph emergency lane change and stop? Read on to find out, and take a look at the exciting video footage here to see for yourself.