Ford Focus RS Vs Rivals
A bolt from the blue oval has exploded on to the performance car scene in the shape of Ford's Focus RS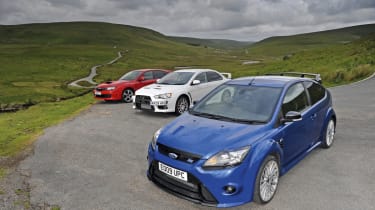 The
Ford Focus
RS has raised the bar in the hot hatch class. With a fearsome 2.5-litre turbocharged engine that produces 301bhp under the bonnet, it has left its traditional rivals in the shade by delivering incredible straight-line performance. Even though the Focus lost out to the more entertaining MINI JCW on its road test debut back in February, the hot Ford simply blew the competition into the weeds against the clock at our test track.
We think the new RS has outgrown its hot hatch roots then – but does it have what it takes to compete with cars from the class above? To find out, we've lined up a pair of rally bred rivals. The
Mitsubishi Evo X
FQ330 and
Subaru Impreza
WRX STi Type UK 330S are both equipped with hugely powerful turbocharged engines – but that is where the similarities end. While the Ford relies on a sophisticated differential and highly advanced front suspension system to transfer all its power to the tarmac, the Mitsubishi and Subaru have the advantage of four-wheel drive.
The Focus has a trick up its sleeve, though – at £26,395, it undercuts its competitors by a significant margin. 
Will this be enough to take the fastest-ever Ford hatch to a historic, giant-slaying victory? Or will the dynamic superiority of the Japanese cars see them past the chequered flag first? Fasten your seatbelts for a thrilling ride as we find out.
Verdict
Our three contenders come with the promise of supercar pace and thrills in a practical family car package – but they take different routes to the same destination. 
The Ford is the most extreme front-wheel-drive hot hatch ever, the Mitsubishi saloon is a hi-tech tour de force and the Subaru relies on tried and tested engineering. So, which one of our rally inspired trio takes the chequered flag?
The Impreza is first to drop out of the running. There's no denying that the 330S has plenty of character, and on twisting back roads it still delivers scorching pace. But its chassis lacks the sophistication and polish of its rivals, making it feel old-fashioned in comparison.
Separating the Ford and the Mitsubishi is tougher. The Evo X is sharper to drive thanks to the incredible traction and agility of its four-wheel-drive chassis. Yet you can't ignore its huge £35,999 price. Lower-powered Evos offer similar pace for better value.
That leaves the Focus out in front. For the money, not many cars can match its performance, dynamic ability and visual impact. It's a true fast Ford – and fully deserves the coveted RS badge.