Renault Megane Sport Tourer vs SEAT Exeo ST
Estate buyers demand huge practicality, but the Renault Megane and SEAT Exeo are just as strong on style. Which is better?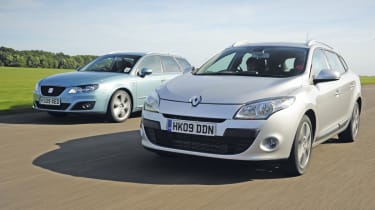 If you have a growing family, space and flexibility will be your priorities when shopping for a new car. While the current generation of family hatches is better than ever, there is no substitute for cubic inches – and that's where compact estates score.
With the arrival of the Renault Mégane Sport Tourer and SEAT's Exeo ST, there's now an enormous choice. The former is the latest addition to a large family car line-up, and promises to deliver a winning blend of everyday practicality and style. Our mid-range Mégane
Dynamique is priced at £19,585, and offers a healthy 1,567-litre maximum load capacity, while under the bonnet is a punchy 128bhp 1.9-litre diesel.
SEAT isn't normally associated with estates – the sporty Spanish arm of the VW Group hasn't offered a load carrier in its model range since the Cordoba Vario of the Nineties. So, with the new Exeo ST, the company is playing catch-up.
Helping SEAT's cause is the fact its newcomer is based on Audi's previous-generation A4 Avant. Bosses are hoping a mix of premium German engineering, Latin passion and value pricing will win customers over.
The question is, which of our pair puts the boot in best to claim top spot here?
Verdict
Choosing a family car has never been more difficult, with buyers now able to select from hatchbacks, MPVs and SUVs. However, our two contenders show that traditional estate cars shouldn't be overlooked. But which of these tourers carries home the spoils?
The sporty SEAT has a lot going for it.
With its strong engine and Audi-sourced underpinnings and interior, it feels like a true premium machine.
However, it can't disguise its eight-year-old roots, particularly in terms of cabin space. Add a higher price, and it has to concede defeat to the Renault.
For most family buyers, the Mégane Sport Tourer delivers everything they will need.
Its boot swallows huge loads, while the interior is roomy and well appointed.
Better still, the model is stylish, refined and shouldn't cost the earth to run. It's a worthy winner.
1st:Renault Megane Sport Tourer Although the Renault doesn't have the SEAT's premium feel, it's the better car for buyers with a growing family.
Highlights include the large and flexible boot, generous rear seat space, decent fuel economy and composed chassis.
2nd: Seat Exeo ST For many drivers, the SEAT represents the chance to buy a brand new, cut-price Audi.
It also delivers a sportier driving experience and stronger performance.
But thanks to its less versatile interior means, the Exeo is the runner-up here.