Audi A5 Cabriolet Vs Rivals
Audi continues to ignore the trend for folding hard-tops, and has fitted its new A5 convertible with a traditional fabric roof. Is it a better open-air choice than coupé-cabriolets from Lexus and BMW?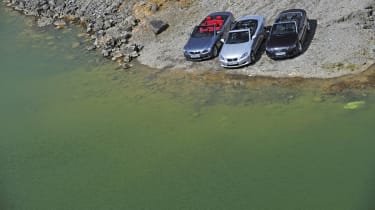 Unpredictable – that's typical British weather. Occasional sunny periods normally interrupted by heavy rain and high winds.
Despite this, UK drivers remain committed convertible car fans, and drop-top sales in this country are still higher than in most other European markets.
Audi has a rich cabriolet history, and has tapped into this trend. Bosses hope to continue the success with the new A5 Cabriolet – which, unlike many rivals, features a traditional fabric hood. What's more, the Audi is powered by a small-capacity turbo engine, and promises to punch above its weight.
Lexus has taken a while to cash in on the convertible market. Apart from its unloved SC430, the firm has steered clear. But that's all about to change with the new IS 250C. It has a three-piece folding metal roof, and comes with a raft standard kit and a powerful V6 engine as Lexus looks to make up for lost time.
But before either newcomer can claim victory, they have to contend with BMW's formidable 3-Series Convertible.
Our class champion is stylish, practical and great to drive. Can it retain its crown?
Verdict
If you want a stylish convertible for all seasons, any one of our three will deliver.
Come rain or shine, these prestige drop-tops effortlessly mix fresh air fun with comfort, luxury and refinement.
There has to be a winner, though – and the Lexus is first to fall by the wayside.
There's much to like about the Japanese car, including its beautiful build quality and refinement.
Standard equipment is generous, too, even in the £34,550 entry-level SE-I.
However, we couldn't overlook the IS 250C's awkward styling, off-the-pace powerplant, sluggish gearbox and uninspiring chassis.
You won't feel let down by the performance of the turbocharged Audi, while its sleek design is eye-catching.
It's also practical, and represents decent value for money. What counts against it in this test are its poor dynamics – in particular, the apparent weakness of its bodyshell.
In the final analysis, neither of our newcomers can match the all-round talents of the 3-Series.
It's stylish, beautifully built, great to drive and incredibly refined with its hood down. The BMW is the convertible that demands the fewest compromises – and it remains our class champion.
1ST: BMW 325i Convertible
The excellent 3-Series Convertible holds on to its crown.
Its folding metal hard-top is a technical masterpiece, and on the road the car really impresses.
It's a safe place for your money, too.
Our only criticisms are the small boot and high CO2 emissions.
2nd: Audi A5 Cabrio 2.0 TFSI S line
Style-conscious buyers need look no further.
The handsome Audi's traditional fabric hood matches the refinement of its metal-topped rivals, and its 2.0 TFSI engine is another plus.
The disappointing driving experience lets it down.
3rd: Lexus IS 250C SE-L
For cruising in relaxed comfort, the refined and beautifully finished Lexus fits the bill.
But compared with its rivals here, it looks slightly frumpy, delivers lacklustre performance and has compromised rear seats.