Supersaloon shoot-out
Will a New Year bring a new order in the supersaloon class? We see if Mercedes' mighty AMG-tuned E-Class can outgun Caddy and Jag rivals.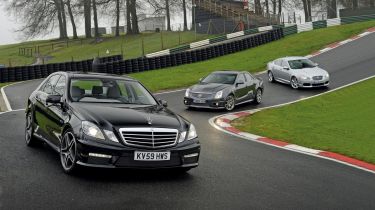 Ask any motoring enthusiast about Germany, and the country's legendary autobahns will be a topic of conversation. Its stretches of derestricted motorway are alien to Brits – and help explain why German brands have always excelled when it comes to high-performance saloons.
Mercedes is one of the biggest hitters, and its AMG tuning division has recently put the finishing touches to the latest model in its arsenal. The new E63 AMG packs more than 500bhp, a seven-speed transmission and adaptive suspension, all of which means it promises to be the sharpest tool in the E-Class box.
This powerhouse has plenty of competition, though – and not all from its homeland. American brands have always had a strong muscle car heritage, and the new Cadillac CTS-V is no exception. With a supercharged 6.2-litre V8 under the bonnet, the latest Caddy produces more than 550bhp.
Finally, representing British interests is the Jaguar XFR. With one of the most exquisite interiors around, subtle looks and a thumping supercharged V8, the big cat has all of the credentials required of a supersaloon. But will our current favourite come out on top in this league of nations shoot-out?
Verdict
All three of these cars deserve the supersaloon label, with their blend of incredible performance and exciting dynamics. But they go about delivering their thrills in very different ways.
If a quirky character tops your wish list, the Corvette-powered Cadillac is the clear number one. The trouble is, personality alone can't make up for the left-hand-drive only layout and edgy handling. So the US bruiser is first to fall.
That leaves the Mercedes and Jaguar to fight it out for the victory. Enthusiasts will be drawn to the E63 AMG because of its raw driving appeal, as well as that incredible engine and gearbox combination. But away from the confines of a race circuit, it begins to lose its lustre.
There's not enough drama inside and out, while it also costs £10,000 more than the XFR. In the end, the E-Class's humble origins are too basic for it to win.
The Jaguar has broader all-round talents, and is as happy on the road as it is on a track. Plus, the cosseting ride and luxurious interior mark it out as something special. In a close-run contest, the XFR narrowly retains its crown.
Rankings:
1ST: Jaguar XFR - although it isn't the most focused car in our group, the XFR is fantastic to drive and effortlessly comfortable. What sets it apart in this test, though, is the incredibly special feel you get from its plush cabin and classy looks. The Jag is a worthy winner.
2nd: Mercedes E63 AMG - without doubt the most single-minded car here, the new E63 AMG will be the best option if storming performance and handling thrills are your main priority. But it costs more than its rivals, looks uninspiring and can't match the Jaguar's refinement.
3rd: Cadillac CTS-V - here is a true American muscle car, and it delivers plenty of power and drama. However, it can't match its rivals for quality or class, and demands too many compromises – not least the fact it's left-hand drive only.