Renault Megane Cup vs SEAT Leon Cupra
We put new hot hatches from Renault and SEAT head-to-head.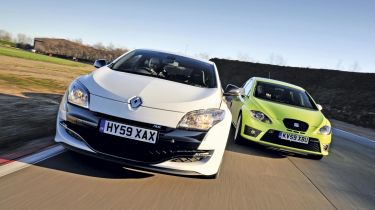 Hot hatches have to be versatile. With a mix of blistering performance, sharp handling, strong practicality and low running costs, these machines are true all-rounders.
Renault has built some of the finest ever, and the new Renaultsport Mégane 250 looks set to continue the trend. We put it up against the SEAT Leon Cupra – recently revised, but still fast, stylish and great value for money. Which is better?
Verdict
If you want practicality and affordability as well as driving entertainment and performance from your hot hatch, the latest SEAT should be on your wish list. It retains the strengths of the previous Leon Cupra, including its distinctive appearance, versatile cabin, storming straight-line pace and attractive price. And when you factor in the changes to the chassis, this car is a genuine contender for class honours.
However, it can't match the Renault for driving thrills. Every mile in the French car is an involving experience, and along back roads it will never fail to raise a smile.
For many buyers, the lower price will seal the deal in favour of the hugely capable SEAT. But we think the Mégane is worth the extra outlay. It's every inch a hot hatch star, and takes a narrow victory in this test.
Ranking 1st - Renault Megane 250 Cup Driving fun and performance are the criteria in this test, and the Renault takes victory on both counts. Even though it carries a price premium here, it's more entertaining. Plus, it looks great and is practical, despite its three-door layout.
2nd - SEAT Leon cupra Second place is no disgrace. The Leon is one of the most improved cars on the road, giving strong pace, versatility and fun. It's not as sharp or engaging as the Renault – but the forthcoming 261bhp Cupra R could redress that balance.