Renault Megane CC vs. A3 Cabriolet
Is new metal-top Renault Mégane C-C the summer's hottest cabrio? We pitch it against Audi's fabric roof A3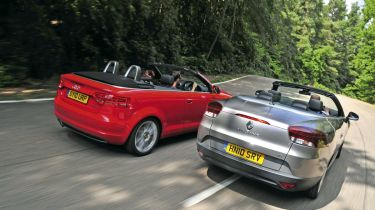 WITH summer in full swing and temperatures soaring, convertible models are all the rage. And there's never been more choice, with buyers able to opt for anything from two-seater sports cars to luxuriously appointed open-top cruisers.
Competition is fiercest in the compact cabrio class, where mainstream and premium rivals go head-to-head in the battle for drop-top honours. The latest addition is Renault's new-look Mégane Coupé-Cabriolet.
The second generation inherits the folding metal hard-top of the original, but promises an extra dose of style and refinement. Even in £23,095 entry-level Dynamique TomTom trim, the Renault is loaded with equipment, while its 128bhp 1.9-litre diesel promises to blend strong performance with low running costs.
Don't underestimate the draw of a prestige badge, though. On paper, Audi's A3 Cabriolet Sport is at a disadvantage. It's pricier, at £23,570, has a smaller engine, less kit and a fabric roof – but claws back ground with its low emissions, agile handling and build quality. So, which car lets a little sunshine into your life?
Verdict
We expected this battle for four-seater drop-top honours to be closely fought. But it proved remarkably one-sided. The new Renault takes up where its predecessor left off, delivering a desirable folding metal roof and offering decent value for money. And its punchy 1.9-litre diesel serves up a decisive performance advantage, with no real shortfall in fuel economy. But it's hard to overlook the model's flaws. The styling comes down to personal taste, yet there's no getting away from the cramped cabin and the reduction in luggage capacity when the heavyweight hard-top is stowed. In contrast, the Audi is a perfect cabriolet companion. Pert looks, an agile chassis and refined fabric hood underpin its appeal, while the roomy cabin, beautiful build quality and premium image are the icing on the cake.
1. Audi A3 Cabriolet 1.6 TDI Sport THE Audi puts in a polished performance to take victory here. The combination of classy looks, a fast-folding hood and composed driving dynamics makes it hugely desirable. Sealing the deal are its efficient 1.6-litre diesel, excellent predicted residual values and versatile cabin. Only limited standard kit marks the A3 down.
2. Renault Megane C-C dCi 130 Dynamique GIVEN Renault's strong tradition for making drop-top four-seaters, the latest Mégane C-C is a disappointment. With its awkward looks, tightly packaged cabin and higher running costs, it can't match the desirable Audi. Still, it's overflowing with standard kit and has strong performance.