Renault Wind vs Peugeot 207CC
Renault has entered the small coupé-cabrio class with its new Twingo-based Wind. Does it have what it takes to blow away the Peugeot 207 CC?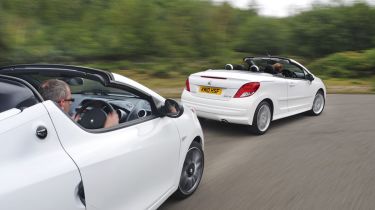 IS Renault about to breathe fresh life into the world of affordable roadsters? Its bold new Wind is on sale now, featuring a clever rotating one-piece roof, and aiming to combine driver appeal with open-air thrills. It offers a choice of 99bhp 1.2 and 131bhp 1.6-litre petrol engines – and we test the latter in top-of-the-range Dynamique S spec.
You won't think it from the outside, but the two-seater Wind shares its underpinnings with the Twingo city car. So how does it compare to the big seller in this class: the Peugeot 207 CC? The Lion has been a leading advocate of the coupé-cabrio concept since introducing the folding metal hard-top to the mainstream with the 206 CC in 2001. And the flagship version of the latest 207 CC – the turbocharged 156bhp THP GT – promises to put up a strong fight against the new pretender.
So which model serves up a better blend of day-to-day practicality, driver enjoyment and quality?
Verdict
Small convertibles with folding hard-tops are not easy to produce. Tiny dimensions mean it's difficult to package the roof without affecting the design or hiking the price considerably. These challenges are obvious when you drive the Wind. It has a clever top and bold styling, while the rigid chassis means it's good to drive. However, money has clearly been saved on the low-rent cabin, and the 1.6-litre petrol engine has to be worked hard to deliver performance. The 207 CC is more refined, but its body isn't stiff enough. Plus, it doesn't look as striking as the Wind, and isn't as entertaining. While the THP model tested here has a great engine, you have to pay a premium for that extra pace. Although the Wind isn't perfect, its fun nature and more thoroughly engineered roof-down dynamics compensate for its poor-quality cabin and high price. So it's our winner.
1. Renault Wind You'll either love or hate the Wind's looks, but it stands out regardless. The roof is clever and doesn't impact on luggage space, while the engaging chassis ensures the car is fun in corners. We can't help thinking it makes more sense in cheaper 1.2 TCe guise, though – this price puts the car too close to the superb Mazda MX-5.
2. Peugeot 207CC The 207 CC is more refined than the Wind, but its rear seats are too small to be of much use and its body is simply not rigid enough. While the cabin has a better-quality finish and there's a wider choice of engines and trim levels – giving the Peugeot more variety – overall it loses out.