Saab 9-5 vs Mercedes E-Class
It seemed impossible just months ago, but resurgent Saab is aiming to topple one of the best executive cars around.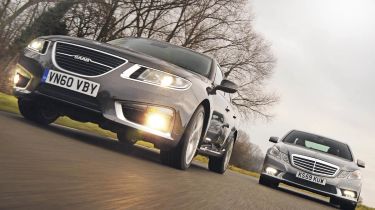 You could forgive anyone searching for an executive express if they forgot to check out Saab's offerings. The Swedish brand dropped off the radar in recent times, as the previous 9-5 was 13 years old when its successor arrived in 2010. However, the potent new Aero flagship aims to reignite enthusiasm for the quirky brand.
It's not short on firepower, with a 296bhp 2.8-litre V6 turbo. And a combination of distinctive styling and impressive cabin space means it is sure to improve on its predecessor. State-of-the-art technologies such as a head-up display and electronically controlled four-wheel-drive system also consolidate the maker's claim that this is the most advanced car it has built.
The Saab has picked one hell of a fight, though, as the Mercedes E350 Sport has a proven pedigree. The German brand has been making top-notch executive models for decades, and the rear-wheel-
drive chassis, seven-speed auto and adaptive damping make the E-Class an intimidating foe.
So, will the Saab back up its bluster, or will the Aero be grounded by the three-pointed star?
Verdict
Pitching any newcomer against a car with the heritage of the E-Class is a tough ask – but if you thought the result of this test would be a forgone conclusion, you'd be wrong.
Saab's new 9-5 flagship provides incredible value for money, with an advanced four-wheel-drive system, more power and torque than the Mercedes, plus a distinctive and roomy cabin. The bad news for the firm's bosses is that it narrowly fails to make the grade against its illustrious rival – and its poor resale values and thirsty engine are the main culprits.
The current E-Class is a polished executive saloon which comes with unrivalled prestige. And its 3.5-litre engine, rear-wheel-drive chassis and smooth seven-speed gearbox provide the basis for a winning package here. The Mercedes is the safe option, and executive car buyers aren't renowned for taking risks...