New VW Passat vs Skoda Superb
VW's Passat has been a family car contender for years. Can latest model get back on top, as it meets the Skoda Superb?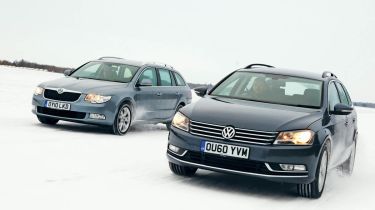 The family car sector has come under fire in recent years, with buyers abandoning traditional saloons, hatchbacks and estates in favour of SUVs, MPVs and premium models.
However, VW is keeping faith and has just launched a new version of its long-serving Passat, which is now entering its seventh generation.
Bosses have been careful not to mess with the hugely successful Passat formula, so the newcomer doesn't look much different to its five-year-old predecessor.
But beneath the skin, the mechanicals have been thoroughly reworked in an effort to boost refinement, quality and driver appeal. Meanwhile, tweaks to the company's eco-friendly BlueMotion technology promise to give the car class-leading emissions and fuel economy. We test the popular 2.0 TDI SE model in versatile estate guise.
The Passat's stiffest competition comes from close to home, as the class-leading Skoda Superb is from the same VW Group stable.
For similar money, it delivers more space, a longer list of standard kit and stronger performance. So, has the VW got what it takes to scoop the top prize? Or will it be toppled by its Czech mate?
Verdict
Sometimes less really is more. The latest Passat doesn't look much different to its predecessor, but the changes drag it back into contention for honours in this class. Refined, comfortable and beautifully built, the newcomer brings a slice of premium appeal to the fiercely fought family sector. Factor in the BlueMotion technology, and the VW is tempting, particularly for company car users. Only the anonymous looks, numb driving dynamics and less generous kit list count against it. So has the Passat done enough to snatch the silverware? No.
The Skoda still leads the way for space, versatility, driving dynamics and performance. On top of this, it's better equipped and backed by a first-class dealer network. Higher CO2 emissions mean it will cost more to run, but we think the Superb is worth every penny.