Audi A8 vs Rivals
Audi has lofty ambitions for its new luxury saloon – but will the new A8 lord it over key rivals from Mercedes and Jaguar?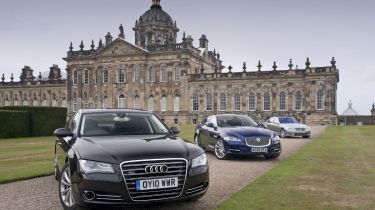 You can't put a price on luxury... or can you? The Mercedes S-Class rules the prestige saloon roost, and the S350 CDI weighs in at £60,140. So if you want the best four-door in the world, that's what it will cost you.
Audi has designs on the three-pointed star's class leader, though, and the flagship A8 is now available with a new 3.0-litre TDI diesel engine that promises more efficiency and performance than its rivals. It also undercuts them on price and features unusually low-key looks – so it's a luxury car that appears tailor-made for the current economic climate.
Making your mark in this sector is no easy task, however, and the Audi also must contend with a British-built machine with a rich heritage of mixing pace and style. The latest Jaguar XJ is a dynamic choice that puts driver engagement ahead of outright comfort, while its dramatic looks demand attention.
We take leave of our luxurious surroundings and head for congested city streets, flowing B-roads and high speed motorways in search of automotive perfection. Has the price of luxury come down, increased or stayed the same?
Verdict
These cars are among the best in the world, but a host of subtle differences set them apart. Which is the best luxury saloon money can buy? Despite stiff competition, we think it's still the Mercedes. The new A8 is an impressive feat of engineering, yet it misses out on the sprinkling of luxury car magic lavished on the S-Class. These machines should be the most refined and comfortable around, and cosset drivers and passengers alike. None of our contenders does this as expertly as the Mercedes – it shows exactly what 125 years of car building know-how means. An attractive price tag, spacious interior and supreme cabin quality earn the Audi second spot. However, its bland looks and compromised comfort are a real disappointment. The Jaguar comes third, but we would understand anyone who fell for its charms. The British brand has taken a different tack here, producing a sportier car. While the XJ doesn't serve up the ultimate capabilities of the A8, it is more fun and engaging to drive than its rivals – but the ride comfort and cramped cabin leave it wide of the luxury car mark.