Audi A6 Avant vs rivals
Does the new Audi A6 Avant pack enough load-carrying muscle to beat 5 Series and E-Class?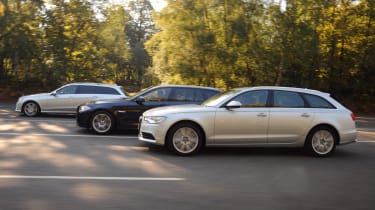 This more practical version of the A6 features the same high kit levels, brilliant cabin quality and smart looks as the saloon, while the 565-litre boot will be useful for executive buyers who want more space than the four-door can provide.
Here we test the anticipated best-seller, the 2.0-litre TDI, which is frugal and efficient. This is sure to attract company car buyers, but the A6 Avant isn't going to earn a space in the corporate car park without a fight. The 5 Series is our current executive estate favourite. In 520d form it also promises to be clean and economical, while sporty dynamics mean it's hugely enjoyable to drive.
The E-Class is another premium model with practical appeal. A raft of technology ensures the E220 CDI is more efficient than ever, and it has the largest boot on test. The A6 Avant really has its work cut out...
Verdict
For many estate car buyers, ultimate carrying capacity is king. On this basis, the classy-looking and refined Mercedes takes some beating, as its vast 695-litre boot is 135 litres larger than its nearest challenger here. Yet the E220 is held back by its high price and running costs, dated cabin and slightly less accomplished dynamics. In such a close contest, such failings leave the E220 in third place. Finishing narrowly ahead of the Mercedes is the BMW. The dynamic 520d is the fastest and most rewarding to drive of our trio, plus it boasts superb residuals and low running costs. But its boot is the smallest here and the ride of our M Sport test car was unforgivably firm – the cheaper SE is a far more comfortable choice. So, that leaves the A6 out in front. As with its saloon brother, the Avant has no real weaknesses. It's not quite as much fun to drive as the BMW, but this is a small price to pay for its sleek styling, efficient drivetrain, high-quality cabin and excellent versatility. Factor in its generous kit list and low company car tax bills, and it's not hard to see why the A6 takes a well deserved win.
When it comes to all-round appeal, the A6 takes some beating. Its sleek styling, composed chassis and low company car tax bills make it hugely desirable. And while it hasn't got the biggest boot, the load area has been very thoughtfully designed. 
2. BMW 520d Touring
For keen drivers the BMW is still the number one choice, thanks to its sharp handling and strong engine. And despite its small boot, the car's spacious cabin and neat split tailgate make it a versatile choice. But it's denied victory by its price and bone-jarring ride.
3. Mercedes E220 CDI
When it comes to the space race, the E-Class scores a clear victory over its rivals. The big Merc also takes the spoils for comfort and refinement. It's a shame it's held back by its high price, average residuals and higher running costs.