Kia Optima vs Toyota Avensis
After impressing in its first test, the bold new Kia Optima meets the Toyota Avensis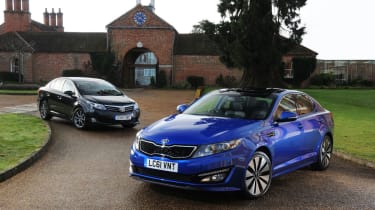 Is time running out for the established contenders in the family car class? The new
Kia Optima
has already proven it has what it takes to upset the old order, beating talented rivals from VW and Hyundai in our Issue 1,204 group test.
With its bold styling, upmarket cabin and fuel efficient 1.7-litre diesel engine, the Optima is a huge leap forward over its woeful Magentis predecessor. What's more, it comes packed with standard kit and has an attractive price, while the package is backed up by Kia's industry-leading seven-year warranty.
But the Optima isn't the only new model charged with toppling the class leaders. The
Toyota Avensis
is already a familiar face in this market, and has just benefited from a thorough mid-life revamp in a bid to improve its chances.
Fresh looks, an overhauled chassis and a raft of changes aimed at slashing emissions top the list of enhancements, while a competitive price, generous haul of kit and five-year warranty prove the Avensis won't be outshone by Kia in the value stakes.
So, can the Optima make it two in a row? Or does the overhauled Avensis have what it takes to finally shake off its status as class also-ran?
Verdict
Success in the large family car class isn't easy to come by. With more choice for buyers and higher standards than ever, any newcomer needs to shine. So, which of our contenders here has what it takes?
There's no doubt the Avensis has been significantly improved. More refined, better equipped and sharper to drive, it no longer languishes at the bottom of the class. It's also surprisingly practical, and low emissions make it a cost-effective option for company car users. Factor in the beautiful build quality and Toyota's five- year warranty, and the Avensis makes a lot of sense.
Following on from the woeful Magentis, the Optima represents a remarkable turnaround in form for Kia. It's stylish, spacious and good to drive, and easily a match for established class rivals. What's more, it has the company's industry-leading seven-year warranty. That's not all: you can pick one of the brand's great-value pre-paid servicing packs, too. And while the Optima costs a little more in company car tax, it offsets this with more lively performance and an enticing list of standard kit.
In the final reckoning, the more talented Kia comes out on top to take a well earned second road test victory. Established rivals from Ford, Vauxhall and Skoda should take note, as the Optima's run of success is sure to continue.
Winner Kia Optima ★★★★
Kia is clearly going from strength to strength. The Optima is a quantum-leap improvement over the old Magentis and gives the brand a genuine class contender. With its sleek looks, classy cabin and decent driving dynamics, this car is a genuinely desirable choice. It's slightly more expensive to buy than the Toyota, and is likely to be more costly to run, but we think it's worth the extra.
2nd Toyota Avensis ★★★
The revised Avensis is a vast improvement. It looks little different, yet is more refined, better to drive and has impeccable build quality. And while it's not as fast as the Kia, it rewards with low CO2 emissions and decent comfort. It's unlikely to set your pulse racing, but the Toyota is a relaxed and hassle-free choice.