Audi
Click here for a detailed guide to the best Audi deals in 2010.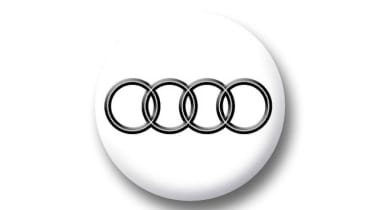 Audi might be a premium marque, but its dealers still understand the value of offering a little bit extra over its rivals. For the best Audi deals, head to the brokers, but the dealers are hitting back with more free equipment offers than rivals like BMW, and attractive finance packages too. Audi isn't extending any 'scrappage' style offers, so the best advice is to shop around for a new Audi at the right price.
Best Audi deals: If you can't get money off, then free kit is the next best thing! A3 buyers are spoilt for choice, with three different upgrades available. All SE models are offered with either the Technik pack, which adds a multi-function steering wheel, different alloys, Bluetooth and a driver's information system, or the Sport pack, which has sports front seats, stiffer suspension, concert radio and dual zone climate control. S-line versions start from £23,215 OTR, and get a free upgrade to 'Black edition', adding Xenon headlights and LED running lights, 19-inch alloy wheels, a sporty flat-bottomed steering wheel and BOSE sound system.
Best marketplace deals:If the Audi dealer won't discount, head to brokers like Broadspeed. For example the stylish drop-top A3 1.6 TDI Cabriolet in S line trim is over £1,500 cheaper than the list price of £25,120. Try asking your dealer if he can match it, or throw in some extra equipment instead.
Best Audi deals: More free kit please, Mr. Dealer! To gently persuade you to go for the higher-spec models of its business saloon, Audi is handing out a free 'Black edition' upgrade on all S-line models. The additional kit includes 19-inch titanium alloys, parking sensors, a DAB digital radio and high-end Bang & Olufsen stereo. Meanwhile finance customers can bag a 1.8 TFSI SE saloon with the dealers providing £2,700 worth of the deposit. At £23,415, linked in to a three-year PCP deal at £299 a month, with 6.4 per cent APR typical and a mileage limit of 10,000 a year.
Best marketplace deals: If you don't want the long-term commitment of a finance deal, and prefer your discounts in cash and not kit, then head to a broker. Broadspeed has the more powerful version of the 1.8 TFSI S-Line for £24,662, that's a straight discount of £2,403.
Best Audi deals: A colour screen for the driver info system, free sat-nav and CD changer for all models badged SE and above on both the saloon and Avant estate versions of Audi's oldest model is available on cars ordered by March 31st next year. If you're looking to spread the cost over time, then go for a PCP finance offer, e.g. a £4,325 deposit and 36 monthly payments of £399 will secure you a 2.0 TDi 170 S Line, with a 10,000-mile-a-year limit and 5.4 per cent APR typical.
Best marketplace deals: The best Audi deals come from the brokers. For example, Broadspeed can knock off around 11 per cent, slashing just over two grand from an A6 Avant with the two-litre TFSI petrol engine, pegging it at £24,546.
Best Audi deals: A spec giveaway on S line versionscreates Special Edition models with free Bluetooth phone connection, unique 20-inch wheels, a Bang &Olfusen stereo upgrade and a DAB radio. Avant models also get a convenient electrically-powered tailgate, all for free on any S Line model ordered before March 31st 2011.
Best marketplace deals: Audi might be throwing a generous free upgrade into the mix, but if you want to take down the price of the medium sized off-roader, then head to the brokers. Broadspeed can get you a £1,748 discount off the price of a 168bhp 2.0 TDI Quattro, now listed for £26,792.