MINI Scooter concept set for Olympics
MINI won't just be limited to four wheels with its new electric scooter.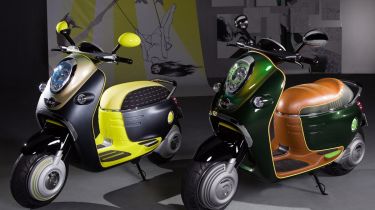 Meet the two-wheeled future of MINI! Following the success of the plug-in electric scooter concept that premiered at the Paris Motor Show, MINI is ready to green-light a range of two-wheelers.
Just like the MINI E Scooter Concept, the bikes will feature scaled down versions of all the classic MINI design cues, including the large iconic speedometer, oval wing mirrors and squared off rear lights. The use of chrome and other material is also designed to make the scooters instantly recognisable as a part of the MINI family.
The grey and luminous green colour scheme of the concept was borrowed from the MINI E electric car, and so is the drivetrain: a single electric motor is integrated into the rear wheel, and power comes from a compact lithium-ion battery stored under the seat. The battery can be charged from any standard A/C power outlet, via a retractable cable at the back of the scooter.
MINI used the Paris Motor Show concept to gauge public reaction to the scooter, and is keen to make the production model electric. We should see a version towards the end of 2011, with the finished model likely to be used during the London 2012 Olympics, which BMW is an official car supplier for.