New MINI Coupé is ready for action
MINI Coupé set to be built in the UK at firm's Plant Oxford factory.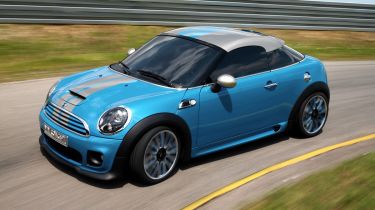 The sensational new MINI Coupé is all set to debut at March's Geneva Motor Show. It was shown at the Frankfurt expo in 2009 as a concept, to coincide with the 50th anniversary of the original Mini's arrival in 1959.
Taking the shape of a sporty two-seater, the MINI Coupé is designed to compete with the Mazda MX-5 Roadster Coupé, Audi TT and the Peugeot RC Z.
Blending styling cues from the past, present and future, the new MINI's remit is simple; to broaden the appeal beyond the hatchback, Convertible and Clubman.
And with its light weight and low centre of gravity, it promises to be the most driver-oriented roadgoing MINI ever. The familiar front end is borrowed from the four-seater hatchback, and the same engine range will be carried over too.
Unlike the Countryman, which is built in Austria, the MINI Coupé will run down the same production line as the hatch and Clubman in Oxford. The Coupé was also be joined by a convertible version, taking up all the spare capacity and adding an extra 1,000 jobs at the Plant Oxford facility.