Roadster set for production in 2011
MINI Roadster takes on the TT and joins Coupe sibling as another star of 2011.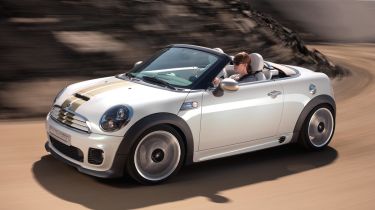 Here's how to celebrate Mini's 50th birthday in style! The Roadster version of the MINI Coupé Concept will arrive later in 2011.
Designed to mark the brand's half-century, the two-seater Roadster takes MINI further into new territory. And it gives drivers in the market for the Audi TT Roadster, BMW Z4 or Mazda MX-5 another highly desirable model to consider.
There's no metal hood – instead, the covering is made of fabric, and it's manually operated. This is a much lighter solution to a fully electric mechanism. Much like an MX-5's hood, it is folded simply and neatly behind the occupants' heads.
The arrangement makes the Roadster surprisingly practical. Regardless of whether the roof is raised or lowered, there are 250 litres of luggage space.
Under the bonnet lies the same engine as in the Cooper S – a 175bhp 1.6-litre turbocharged four-cylinder petrol unit. It produces 240Nm of torque, but can generate 260Nm for short periods during overboost.
The Roadster will run down the production line at MINI's Plant Oxford factory, alongside the MINI hatch, Clubman and Coupe.