Beachcomber returns as Moke
MINI's radical Beachcomber gets green light for small-scale production, revives the Moke.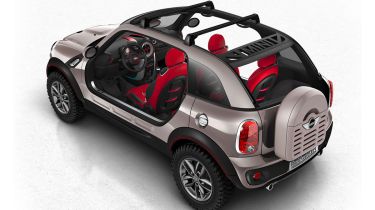 The Moke is back! MINI bosses have given Auto Express strong hints that the buggy-inspired Beachcomber concept will be sent down the production line.
Designed to show off the new Countryman crossover, the stripped-down Beachcomber proved a massive hit when it was revealed at the Detroit Motor Show in January 2009.
So much so that MINI is close to giving it the green light. Head of brand management Dr Wolfgang Armbrecht said: "We will come back to this to see if there is a business basis, as we were overwhelmed by the reaction. MINI will never show a concept that won't make production."
The Beachcomber was built around the road-ready version of the Countryman, but lost the doors and roof panels in homage to the Moke – the legendary Mini-based take on the classic beach buggy.
As with the Moke – made from 1964 to 1993 – the Beachcomber has a metal, body-coloured grille, only this time the designers have inserted driving lights. Off-road ability is enhanced by higher ground clearance than the Countryman, as well as chunky tyres. Plus, the new ALL4 four-wheel-drive system is likely to be included as standard.
And the name? Bank on Moke, if Dr Armbrecht's comments are anything to go by. "MINIs need authentic names," he said.