MINI Minor gets green light
MINI looks to its past to create a new car that measures the same length as the original Minor.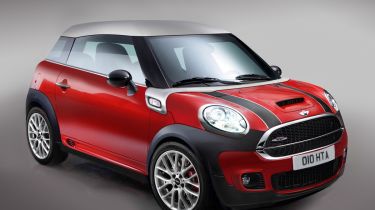 It's back to basics for MINI! At just over three metres long, the firm's smallest model will be virtually identical in size to the original 1959 Morris Mini Minor, and it should be just as fun to drive.
Speaking to the German edition of the Financial Times, MINI brand chief Wolfgang Armbrecht said: "We have always been motivated by the idea to build a small, spacious car."
He also confirmed that the new small car will break cover in 2011, adding: "Keep a close eye on the coming months."
Despite its compact dimensions, the three-door Minor will still seat four, with a small boot behind the rear seats. It's lighter than the current hatch, too, so should be more efficient.
Expect the diesel variants, with either 90bhp or 112bhp, to emit well under 100g/km of CO2, while petrol fans are likely to have the option of a new 1.5-litre three-cylinder turbo. That will produce up to 150bhp, but still return 50mpg-plus, in a racy JCW version of the Minor.
To spread development costs, parent firm BMW will share the Minor's chassis. The firm is tipped to use the underpinnings for its sub-1-Series model, the front-wheel-drive 0-Series. This goes on sale in 2012 – at
about the same time as the Minor is due in dealers.