Kia Cee'd GT 2014 review
The five-door version of Kia's Cee'd hot hatch is more practical but just as much fun
With zero penalty over the Pro_cee'd GT in terms of weight, performance, handling or economy, the five-door Cee'd GT makes a strong case for itself. It looks almost as good and makes life easier for rear passengers, too. So while the GT isn't as 'hot' as some of its hot hatch rivals, it's an excellent all-round package.
We're already familiar with the three- door Pro_cee'd GT, but now there's a more practical five-door version to go with it. And although it costs £505 more there's no sacrifice in terms of weight, performance or fuel economy.
The Cee'd GT is powered by the same 201bhp 1.6-litre turbocharged engine, hits 0-62mph in 7.4 seconds and returns claimed economy figures of 38.2mpg and 171g/km of CO2. All those numbers lag behind the facelifted 247bhp, 41.5mpg Ford Focus ST, but Kia's intention was always to build an affordable 'warm' hatch, and in that respect the GT is a roaring success.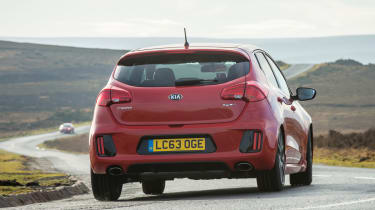 The engine starts to pull hard from as little as 1,750rpm and keeps going all the way to 7,000rpm. At no point does the GT feel particularly fast, but it means you can use all of the throttle travel more often and have fun without necessarily breaking the law. Where the Cee'd GT falls short of the Focus ST and VW Golf GTI is in steering feel, which is a touch artificial and lacks feedback.
However, with stiffer springs and dampers, bigger brakes, a thicker anti-roll bar and stickier tyres it handles very neatly indeed – the trade-off is a jittery ride at low speeds, although things smooth out as you up the pace.
Considering the £20,500 starting price (£6,485 less than the cheapest five-door Golf) interior quality is impressive, and a sign of how far Kia has come, with plenty of soft-touch surfaces and gloss black trim. There's loads of space in the back, while the rear doors improve access and make it a lot less gloomy than the three-door. And while the Pro_cee'd has the edge when it comes to styling, the five-door looks fantastic with its 'ice-cube' LEDs, GTI-style pinstripes and 18-inch wheels.