Suzuki GSX-R1000 - best superbikes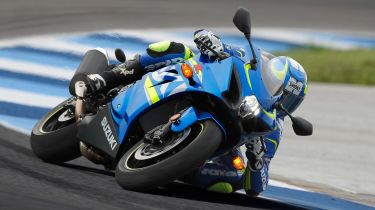 Whatever you do, don't go out and buy a Suzuki GSX-R1000. Not because it's terrible. Far from it. The current model, launched in 2012, is a seductive synergy of performance, comfort, legendary reliability and great value at a tad over 11 grand.
It doesn't have semi-active suspension like its more expensive counterparts, just a manually adjustable version which in a few clicks changes the bike from a fast and stable road machine to a fast and even more stable track racer.
It doesn't have ABS or traction control, gizmos are limited to a choice of three rider modes, and its peak power may be a 'mere' 182bhp compared to 200-plus monsters which cost several grand more, but it's delivered with a gnarly snarl and a delicious smoothness is hard to match.
All in all, I really like it. It's up there with the Honda Fireblade as a bike you can jump on, feel at home with instantly and ride like the clappers from the first corner.
So why am I saying you shouldn't buy one?
Because the latest Suzuki GSX-R1000 model is out later this year, and it's going to be even better.
Suzuki says it's going to be the lightest, most powerful and best handling GSX-R it's ever built, with a completely new engine and aluminium chassis, and compared to the relatively low-tech current model, a host of gizmos including multiple traction control and rider modes, ABS, ride-by-wire throttle and quickshifter for both up and down clutchless gearchanges.
Even better, the top of the range version with all of that is going to be around £13,000, with rumours of a more basic version for £11,500.
Mind you, having said all that, if money's tight, now might be just the time to pick up a bargain outgoing model…
Best superbikes