Ducati 1299 Panigale S - best superbikes
.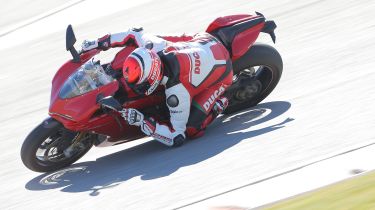 Ladies and gentleman, please be upstanding for a minute's silence in memory of an old friend.
I refer to the clutch, for Ducati's latest, fastest and most exotic missile is equipped with a quickshifter. It's a work of art, automatically producing more seamless progress through the slick six-speed box than a rider ever could, and blipping the throttle perfectly as it does so.
As if all that wasn't enough, the Ducati 1299 Panigale S is stunning, from the headlights brilliantly slotted into the air intakes down to what must be the most beautiful digital instrument panel in the known universe.
A simple rectangle of colours on white, it tells you what gear, speed and power mode you're in, and as you rev the engine, the relevant number on the tacho leaps out large like a bouquet from a magician's top hat. Inspired.
The engine produces a class-leading 205bhp, but at 190kg with fuel, it's the lightest superbike around too; a combination which after I'd trickled through town being surprised at how docile it was in traffic, created insanely swift and seamless acceleration, accompanied by a deliciously vicious snarl.
Handling, once speed builds up enough to get some wind under your chest and take your weight off your wrists, is featherlight thanks to those wide bars, light weight and short wheelbase. The 1299 Panigale S is stable to boot thanks to semi-active suspension which adjusts itself constantly as you brake and accelerate.
The Brembo brakes are both brutal and sensitive, and even if you're stupid enough to brake heeled over in a corner, the magically clever Bosch cornering ABS simply raises its eyebrows and saves your bacon.
As fast as bikes which were winning World Superbikes 10 years ago, but as safe as a Volvo thanks to an amazing gizmo count, I can't think of a major fault with the 1299.
Best superbikes
1. Ducati 1299 Panigale S
2. BMW S1000RR
7. MV Agusta F4