Kawasaki Ninja H2 - best superbikes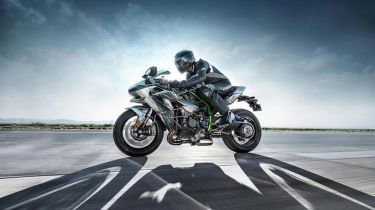 Pop down to your local Kawasaki dealer and go for a blast on the H2. A supercharged £22,000 missile with a 998cc engine which produces 207bhp, this is a postmodern homage to the original H2, a mad 750cc two-stroke which was the world's fastest road bike when it came out in 1972. 
It is, for a start, utterly exquisite, with a deep and lustrous silver finish you could easily faint with pleasure at the sight of.
Underneath that beauty is the beast of a supercharger, revving to 100,000rpm and forcing air into the engine in such vast gulps that twisting the throttle even slightly is like pressing the fast-forward switch on the surrounding scenery.
If you're looking for an easy ride, look elsewhere, for the acceleration is so breathtaking that it would be very easy to find yourself hurtling into a corner faster than even the brakes could handle, powerful and ABS-equipped though they are; particularly since at 238kg it's on the hefty side.
In short, it demands your full concentration all the time, and you'll never get close to using its potential on the road. Probably not even on a track.
If even that's too tame for you, its big brother, the £41,000 carbon fibre H2R, produces 319bhp, more than a MotoGP racing bike.
The only downside is that this year's production run has already sold out.
Best superbikes