Yamaha YZF-R1 - best superbikes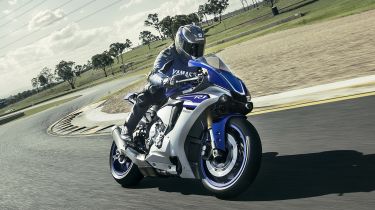 I felt like I was coming down with something after riding the latest version of the Yamaha R1. But it might just have been whiplash from cracking open the throttle in Race mode.
It was all my own fault, since the dealer had warned me that Standard mode was enough to satisfy anyone's lust for performance with the Race setting taking things to another level entirely.
The 2009 R1 was revolutionary because of a crossplane crank and irregular firing which Yamaha had previously fitted to Valentino Rossi's MotoGP bike so that he could get in and out of corners as quickly and smoothly as possible.
For the technically minded among you, setting the crank pins at 90 degrees reduces the inertia of the crank, making it spin as freely as a two-stroke. When combined with a fly-by-wire throttle system this creates a flat torque curve, which gives you smooth power all the way from low revs.
After that revolution, everything went quiet until last year, when the boffins in the Yamaha R&D department realised that most R1 riders were track fiends, and brought out a latest model which owed more to Rossi's M1 race bike than the previous road bike.
That means an electronics package that tracks the bike's movement more than 100 times per second to maximise traction and braking.
With a redesigned engine which pumps out 197bhp, 18 more than the previous version, that makes it a focused track tool, albeit with a high, hard seat, aggressive riding position and useless mirrors which can get a bit wearing after more than an hour on the road.
Best superbikes