KTM 1290 Superduke R - best superbikes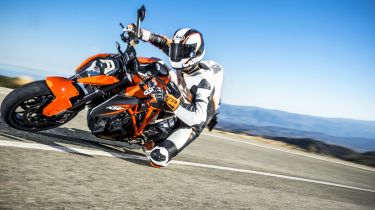 I don't like to boast, but I passed Jeremy McWilliams at a track day recently. Sadly, it was only in the queue for lunch.
The former MotoGP star was there for his toughest challenge yet: trying to teach me to go faster around the Bonanza Speedway in Thailand on the machine they call The Beast.
First of all he painstakingly talked me through all the corners, gears and braking points, then paused.
"But basically, it's got so many electronic aids that nothing can possibly go wrong, so just give it a handful," he said, twisting his throttle hand to emphasise the point. Just as the ambulance set off to rescue a German rider who'd crashed at the first corner.
The first surprise was how comfortable and smooth it is, with a great seat, slightly racy but neutral riding position, and engine that is a peach even at low revs.
Pottering down the first straight at a sedate 80mph just to get used to it, it was purring along at 4,000rpm, at which – get this – it makes 80 ft lbs of torque, almost as much as the maximum of the KTM RC8 R.
All of which means that you can twist the throttle and tear your arms off in any gear, at any speed, with the gizmos set at whatever level of lunacy you want.
Let's start with the power modes. Sport unleashes all 180 horses after whipping them into a frenzy. Street lets them all go, but not all at once. Rain lets 100 of them out, and tells the rest to wait until it clears up a bit.
The lean-sensitive traction control is linked to the power modes and in Sport setting allows riders to power slide the back wheel.
For stopping, the brutally effective twin brake discs up front are backed by a slipper clutch to stop the back wheel locking up under extreme downshifting, and by Bosch ABS which you can turn on or off, or set to Supermoto, which allows the front wheel to slide and the back wheel to lock.
Breathing a sigh of relief that I hadn't crashed like our German chum, I pulled back into the pits after several laps to see Jeremy approaching.
"Well, you've just set a new lap record," he said. Sadly, he was holding a calendar rather than a stopwatch.
Best superbikes